Israeli farmers on strike over foreign worker shortage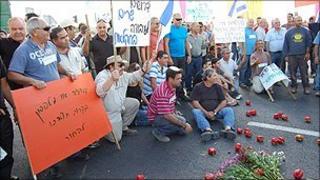 Israeli farmers have stopped sending their produce to market in protest at a government decision to cut the number of foreign agricultural workers.
They also staged demonstrations at several locations across the country, blocking roads and throwing fruit and vegetables on the ground.
Farm owners want to bring an additional 4,000 workers from Thailand.
The strike is causing small shortages of fresh produce in markets, supermarkets and grocery stores.
About 120 farmers gathered by a main road near Netivot in southern Israel. They pushed back metal police barriers to stop traffic briefly.
Some shouted angrily and dropped cartons of red peppers, cucumbers and bunches of flowers onto the tarmac.
"I am losing time and money. I have fruit but not the people to pick it," complained Gili Swisa, a tomato grower.
Imported labour
Until the start of the second intifada or uprising in 2000, when Israel increased border security, thousands of people from the occupied Palestinian territories worked on Israeli farms.
Later they were substituted with cheap labourers from overseas, particularly Thailand.
"We can't work without the Thais. They work very hard. Two years ago I had eight now I have just three working for me," Mr Swisa says.
He says the worker shortage is already pushing up the prices of some foods such as tomatoes and potatoes for consumers.
Many farmers believe their needs are not well-understood by the authorities.
"This is the western Negev, the biggest area for farming, and we need farm workers," said Zvi Howard Wener from Moshav Sde Nitzan.
"Local people are generally not willing to do it and there aren't enough local people here to work for us."
"We either get foreign workers or we cut the number of farms down and then we have to import fruits and vegetables."
Disputed figures
The Israeli Farmers' Federation says the government did not keep to a deal to increase the number of Thai agricultural workers from the current 22,000 to 26,000.
However officials say their policies to boost Israeli employment are not to blame for the lack of labourers. Some suggest farmers have a problem with supply, not quotas of foreign workers.
"We had an agreement with the farmers via the agriculture ministry for a declining amount of foreign workers in the farming industry. This is to increase the number of Israelis in farming," states Shlomi Shefer, a finance ministry spokesman.
"For 2010, the number of foreign workers was 26,000 but only 24,000 got permits. We're somewhat amazed by claims they haven't got enough working hands because they can bring 2,000 more."
Government representatives were expected to meet members of agricultural organisations as this week's strike drew to a close.
There have been reports that radical solutions to the farmers' labour crisis are being considered.
According to Israeli radio, Defence Minister Ehud Barak asked the cabinet for permission to hire 1,200 Palestinian workers from the north of the occupied West Bank.
If the situation is not resolved, farmers are threatening further action.
"Everyone from our community is taking part," remarked Tamar Gal at the Netivot rally. "We will do more if our voices aren't heard."