Baghdad bombs hit Iranian Shia pilgrims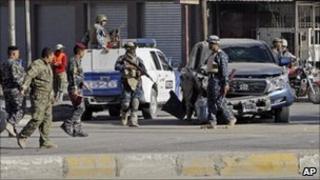 A series of bombings across Baghdad has killed at least 13 people, including six or more Shia pilgrims from Iran.
Five Iranians were killed by two bombs near a house used by pilgrims near an important Shia shrine in the city's Kadhimiya district, police said.
In the northern Shula district, a car bomb struck a coach of pilgrims, killing two people. Another car bomb elsewhere killed six people.
Correspondents say overall, attacks are down in Baghdad in recent weeks.
Police officials said more than 100 people were injured in the string of bombings.
The Kadhimiya district houses the Moussa al-Kadhim shrine, one of several Shia holy sites that attract hundreds of thousands of pilgrims, most of them Iranian, every year.
The pilgrims, as well as Iraq's Shia population, have been targeted in the past by insurgents in Iraq.