Wikileaks: Saudis 'chief funders of Sunni militants'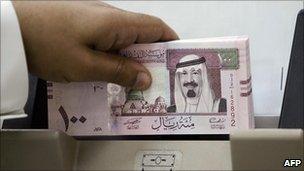 US Secretary of State Hillary Clinton warned last year in a leaked classified memo that donors in Saudi Arabia were the "most significant source of funding to Sunni terrorist groups worldwide".
She said it was "an ongoing challenge" to persuade Saudi officials to treat such activity as a strategic priority.
The groups funded include al-Qaeda, the Taliban and Lashkar-e-Taiba, she added.
The memo, released by Wikileaks, also criticised efforts to combat militants by the UAE, Qatar and Kuwait.
Meanwhile, a lawyer for the founder of the Wikileaks website said he was holding back secret material for release if anything happened to him.
He told the BBC that a rape case being prepared in Sweden against Julian Assange, an Australian national, was politically motivated.
"While the Kingdom of Saudi Arabia (KSA) takes seriously the threat of terrorism within Saudi Arabia, it has been an ongoing challenge to persuade Saudi officials to treat terrorist financing emanating from Saudi Arabia as a strategic priority," she wrote.
The Saudi government had begun to make important progress, but "donors in Saudi Arabia constitute the most significant source of funding to Sunni terrorist groups worldwide", she added.
Al-Qaeda, the Taliban and Lashkar-e-Taiba "probably raised millions of dollars" annually from Saudi sources, often during the Hajj - and the Islamic holy month of Ramadan, she alleged.
Mrs Clinton said reforms to criminalise terrorist financing and restrict the overseas flow of funds from Saudi-based charities had been effective, but that they did not cover equally suspect "multilateral organisations".
Another cable alleges that the Pakistani charity Jamaat-ud-Dawa, which has been accused of being a front for Lashkar-e-Taiba, used a Saudi-based front company to fund its activities in 2005.
Wikileaks is currently working through the publication of more than 250,000 US diplomatic cables, whose release has embarrassed the United States.
Washington has condemned the disclosures - including indiscreet descriptions of world leaders and instructions to spy at the UN - as an attack on the world community.
In the latest releases, three other US allies in the Gulf were also listed as sources of funding for militants in the memo sent by Mrs Clinton.
Al-Qaeda and other groups continued to "exploit Kuwait both as a source of funds and as a key transit point", partly because it remains the sole Gulf Co-operation Council (GCC) country that has not criminalised terrorist financing, the cable said.
"While the GOK has demonstrated a willingness to take action when attacks target Kuwait, it has been less inclined to take action against Kuwait-based financiers and facilitators plotting attacks outside of Kuwait," Mrs Clinton wrote.
Kuwaiti officials resisted the "draconian" measures sought by the US against the Revival of Islamic Heritage Society, a charity designated a terrorist entity in 2008 for providing aid to al-Qaeda and affiliated groups, according to one cable.
Qatar is meanwhile criticised for having "adopted a largely passive approach" to fundraising activities, and its overall level of counter-terrorism co-operation with the US is "considered the worst in the region".
"High volumes of cash and electronic funds flow both to and from Afghanistan and Pakistan, the vast majority of which is derived from legitimate trade and remittances. The lack of effective border controls on cash is no doubt exploited by Taliban couriers and Afghan drug lords, camouflaged among traders, businessmen and migrant workers," one cable said.
Another cable said militants avoided money transfer controls by sending amounts below reporting thresholds, using couriers and hawala - an Islamic informal transfer system.
Emerging trends include mobile banking, pre-paid cards, and internet banking.