Shark attacks in Egypt spark tourism fears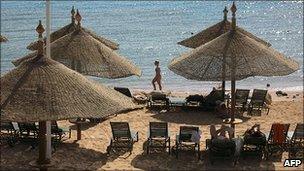 Sun-seeking tourists still fill the beaches in Sharm el-Sheikh and surround the hotel pools but they are forbidden from venturing into the sea.
"You've got water just there and it's very enticing but you're not even allowed in the shallow areas," says Andrew, from Kent.
However he insists his holiday has not been ruined by a series of shark attacks, which killed one German woman and injured several others, leading to a heightened state of alert in the Red Sea resort.
The Egyptian authorities have now closed the main beaches to swimmers.
"I think it's a frustration but you realise it's for safety reasons," Andrew says.
"It's one of those things you can't really control. It's nature. I'll still enjoy relaxing and going in the pool."
Such a response will be welcomed by Egypt's travel industry.
Tourism is a crucial source of foreign currency and jobs in the country, essential to the overall strength of the economy.
Official figures show that for the financial year from 2009-10, it brought in $11.6bn (£7.3bn). It is estimated to provide employment for 11% of the workforce.
While trips in the past focused on the ancient sites along the Nile, now the majority of travellers come for the sun, sea and sand.
In the past 20 years, Red Sea destinations have grown fast with new hotels and facilities attracting Europeans in search of a cheap holiday.
So far, leading hotels in Sharm el-Sheikh are not reporting cancellations to bookings.
"There has been no effect at all until now," remarks Col Ahmed Saleh, spokesman for the South Sinai governorate.
"You can see the tourists are doing their activities in the hotels, they can still go on glass-bottomed boats and they can do trips on land. They can do everything except swimming and snorkelling for 72 hours in the designated area."
Economists also believe the effects of the shark attacks are unlikely to last long.
"I don't think it will be a blow for tourism at all," says Angus Blair of the Arab investment bank, Beltone Financial. "Shark attacks take place off the coast of Florida and Texas each year and people get bitten by scorpions and snakes."
However, some specialist tour operators are worried.
"I am taking a group of clients to the Red Sea in January and naturally they are extremely concerned," comments Mike Murphy from London, who organises scuba-diving holidays.
"I have tried to reassure them that this is a freak occurrence and that none of the attacks happened on divers. I have dived with oceanic white tips in the past and never felt threatened."
The government is seeking to give its own assurances after questions were raised about its initial handling of the situation.
Beaches were closed last week after reports that three Russian swimmers and a Ukrainian were mauled while they were out swimming and snorkelling.
However they were reopened after the environment ministry said its experts had caught two sharks, an oceanic white tip and a mako, believed to have been responsible.
Some local conservationists warned their attacker could still be at large.
A tourist in her 70s was then killed in Naama Bay on Sunday.
More than 130 divers, Australian and American experts and many Egyptian agencies have now joined the shark hunt.
Egypt's tourism minister, Zuhair Gurana has stated that "all beaches will be closed until the attacking sharks are killed to ensure the safety of tourists and citizens".
He says another priority is finding the reason for the animals' unusual behaviour and "eliminating the reasons for such shark attacks in order to remove the risk from the area".
The south Sinai tourism industry was badly affected by deadly bomb attacks on holiday locations between 2004 and 2006 but has since recovered.
Now the main concern is also its most enduring attraction - the sparkling blue waters of the Red Sea and its dazzling array of marine life.
Related Internet Links
The BBC is not responsible for the content of external sites.