Iran nuclear talks resume in Geneva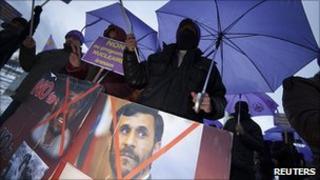 Iran and key world powers have begun a second day of talks over Tehran's disputed nuclear programme.
The first day of talks in Geneva lasted nearly 10 hours and were described as "constructive" and "forward moving" by an Iranian official.
A Western source also said Monday's talks were held "in a good atmosphere".
Iran said on Sunday it had delivered its first domestically produced raw uranium and would go into the talks with "strength and power".
Western powers fear Tehran may be trying to produce a nuclear weapon, but Tehran says its programme is purely peaceful.
An unnamed Iranian official, quoted by Reuters, said Tuesday's talks would "fix the framework for future discussions during which we could talk about nuclear disarmament and about co-operation in the civil nuclear domain".
"The [nuclear] right of Iran will not be discussed. If we agree on a framework, we could have several sessions of negotiations," he said.
Sanctions
Iran's top nuclear negotiator Saeed Jalili is meeting EU foreign affairs chief Baroness Ashton and senior officials from the five permanent members of the UN Security Council - the US, Russia, China, France and Britain - plus Germany.
Analysts say the best outcome that can be hoped for is simply that the two sides agree to hold further meetings.
The last Geneva talks, in October 2009, appeared to agree on a breakthrough deal under which Iran would export low-enriched uranium for processing abroad. However, the deal foundered after Iran introduced new conditions.
The UN Security Council has said that until Iran's peaceful intentions can be fully established, it should stop enrichment and other nuclear activities.
Iran is under four sets of UN sanctions over its refusal to heed repeated Security Council ultimatums to suspend uranium enrichment.