Saudi royal succession: Professor detained over article
By Sebastian Usher
BBC News, London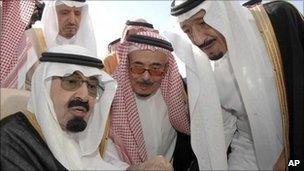 A Saudi law professor who wrote about a possible power struggle over the royal succession is being held without charge, a human rights group says.
Mohammad al-Abdulkareem, 40, was detained at his home in Riyadh on Sunday by four men who had no court warrant, the group said.
Mr Abdulkareem's article appeared shortly after King Abdullah, 86, went to America for surgery on his spine.
The royal succession is a highly sensitive subject in Saudi Arabia.
There has been no official confirmation of the arrest by the Saudi authorities.
In an interview with the BBC, the head of the Human Rights First Society, Ibrahim al-Mugaiteeb, said that under Saudi law, Mr Abdulkareem should not have been detained for more than 24 hours without being charged.
Last month, Mr Abdulkareem, who teaches law at the country's top Islamic university, posted an article online in which he suggested that dissent within the extensive Saudi royal family might cause big problems for the country's unity and stability.
The piece was picked up on various Arabic discussion forums.
It appeared just as King Abdullah headed to America for treatment of a herniated disc in his back.
Crown Prince Sultan, the next in line to the throne, is running Saudi Arabia in the 86-year-old king's absence.
Prince Sultan is also in his 80s and has been ailing for some time.
The third in line, Prince Nayef, is in his 70s and he too has health problems.
All this has given rise to much speculation about potential divisions and conflicts in the vast and varied Saudi royal family over where power should go once this older generation of leaders passes away.
Related Internet Links
The BBC is not responsible for the content of external sites.