Israel ire as Argentina and Brazil recognise Palestine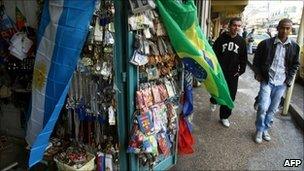 Israel has reacted angrily to Argentina's recognition of a Palestinian state within 1967 borders.
Monday's move by Argentina comes days after a similar step by South American neighbour Brazil.
The Argentinian foreign ministry said recognition was in line with the Palestinians' right to build an independent state.
More than 100 states around the world recognise Palestine, their mission at the United Nations says.
"The time has come to recognise Palestine as a free and independent state," Foreign Minister Hector Timerman said, adding that Argentina was "frustrated" that peace talks had stalled.
Brazil recognised Palestine on Friday, and Uruguay said it would do the same next year. Costa Rica, Cuba, Nicaragua and Venezuela have already done so.
But Israel Foreign Ministry spokesman Yigal Palmor said the moves were irresponsible.
"They never made any contribution to [the peace process]... and now they're making a decision that is completely contrary to everything that has been agreed so far," he said.
Palestinian negotiator Nabil Shaath welcomed the move.
"We don't say that such recognitions immediately end Israeli occupation, but it gives us a push forward and helps getting more recognition," he said, quoted by the Associated Press news agency.
Talks between the Israelis and Palestinians ground to a halt in September, when the United States and the Palestinian Authority failed to persuade Israel to extend a moratorium on new housing in the West Bank, not including East Jerusalem.
Israel occupied the West Bank and the Gaza Strip during the 1967 war. It withdrew its troops from Gaza in 2005.
The Palestinians have been making behind-the-scenes diplomatic moves to secure unilateral recognition since the talks stalled.
Related Internet Links
The BBC is not responsible for the content of external sites.