Iran nuclear talks: legacy of mistrust hampers progress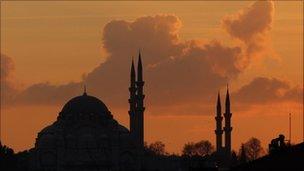 "The level of trust is about as low as you can get anywhere outside North Korea," confessed one EU official at the end of the talks in Geneva.
In other words: two days of conversation in Geneva appear to have made little impact upon several decades of mistrust. This lack of trust, in effect, is the problem that underpins the entire nuclear talks.
Most diplomatic talks begin with a handshake. But these talks started on Monday morning with a nod. Baroness Ashton made sure not to offer her hand to Iran's chief negotiator Saeed Jalili when the two met outside the negotiating room. For religious and political reasons, Dr Jalili would not have been able to shake her hand.
The two negotiators then stood a respectful distance apart for the official opening photocall. Rapport and understanding may be hard to build from such a cultural distance.
Diplomats who attended the talks describe them as "substantive". This may be a code word for heavy going.
From what we understand, the talks followed a strict choreography. On the first day, Baroness Ashton and Saeed Jalili exchanged statements.
Then, diplomats from the six countries who represent the P5+1 (US, Russia,China, France and Britain - plus Germany) each spoke in turn. There was a break for lunch (the menu included duck with olives, followed by tiramisu).
In the next sessions, Iran's chief negotiator responded to the points made by the P5+1. (Officials say that he was the only member of the Iranian delegation to speak.)
One point has become clear: these were talks, not negotiations. They were talks in so far as the two sides got together in a single room and spoke to each other.
But, from what we can tell, the two sides did not negotiate. There was no bargaining nor any kind of give-and-take, or deal-making.
Instead, the two sides presented their own existing positions and grievances. No new offers were made.
"There was no breakthrough - no great leap forward," one official from the P5+1 said after the talks.
Instead, the two sides agreed to meet again in Istanbul in late January. The trouble is - the exact subject of their next round of talks appears to be in some dispute.
In a short statement, Baroness Ashton announced that the permanent members of the UN Security Council plus Germany will go to Istanbul in order to discuss "practical ideas and ways of cooperating towards resolution of our core concerns about the nuclear issue."
In other words: the P5+1 plans to talk about Iran's nuclear programme - in practical detail.
That means a focus on one subject: uranium enrichment. This subject matters to negotiators because the enrichment of uranium is a first step towards building a nuclear weapon.
Diplomats want to persuade Iran to do two things: stop enriching uranium; and get rid of most its existing stockpile of more than three tonnes of low-enriched uranium.
Two offers address these goals. In 2008, the EU proposed a deal known as freeze-for-freeze. Under the terms of this deal, Iran would freeze its uranium enrichment, and in return the UN would freeze its sanctions on Iran.
Another proposal raised in 2009 is a uranium-for-fuel swap: Iran would agree to export much of its existing stockpile of low enriched uranium.
In exchange, Russia and France would provide fuel for the Tehran Research Reactor. Officials from the P5+1 now suggest that they will have to reflect on these offers in the run-up to the talks in Istanbul.
But there are signs that Iran may not want to get into such detail. Iran's chief negotiator Saeed Jalili told a news conference in Geneva that his country has only agreed to the much broader concept of what he called "talks for co-operation to find common ground."
"I believe that anything besides this would be considered as disrespect for the meeting [in Istanbul]," Dr Jalili said through an interpreter.
So negotiators from both sides will head to Turkey next month. But there is a chance that each side may talk past the other.