Middle East crisis is embarrassing for Washington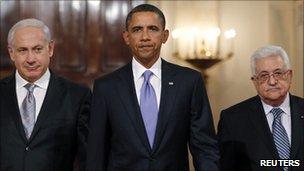 America's policy towards the Israelis and Palestinians is in disarray.
The attempt to persuade, cajole and bribe Israel into a limited and partial freeze on building for Jews in the occupied territories has been declared dead.
That at least replaces some wishful thinking with a note of realism.
Unless there is a parallel, top secret peace negotiation going on that will surprise the region, as the Oslo agreements did in 1993, it is clear that the Americans are floundering.
Never mind the embarrassment that this very public display of the limits of their influence with Israel has caused President Barack Obama and his administration.
In the age of Wikileaks, they must be getting used to red faces.
What matters much more is the fact the world's most powerful country is low on ideas that work in a region that is dangerously unstable and getting more so.
In the Middle East, Mr Obama and his administration have shown that they are not delivering the change they promised.
The president believes that ending more than 100 years of conflict between Arabs and Jews would make it much easier to deal with the region's other dangers.
Some Israeli right-wingers disagree - but many others around the world and in the Middle East share the same view.
For the time being it is most likely that the US will fall back to the often-tried and often-failed technique of shuttling back and forward between the Israelis and the Palestinians. That is unlikely to produce much.
The US will also come under pressure to punish the Israelis for their intransigence by not vetoing resolutions that might be helpful to the Palestinians at the United Nations. That is also unlikely for the time being.
Behind the scenes, the Americans will no doubt be analysing what has gone wrong and why.
They have to ask whether any kind of deal involving land in the West Bank and occupied East Jerusalem is possible under the current Israeli government.
They have also to ask whether a deal is possible when the Palestinian President Mahmoud Abbas has a questionable mandate as leader and no control over Gaza.
Related Internet Links
The BBC is not responsible for the content of external sites.