Press divided on abandoning moratorium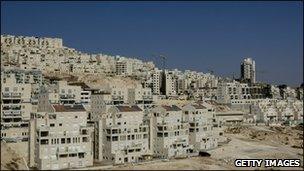 Newspapers in the Middle East have responded in different ways to the US administration's decision to abandon efforts to persuade Israel to freeze settlement building in occupied Palestinian territory as part of moves to revive direct peace talks between the two sides.
One Israeli commentator felt that an earlier settlement freeze had been a mistake, while another speculated that President Barack Obama had come to the conclusion that simply negotiating one freeze after another hardly constituted progress.
The Palestinian press did not dwell on the settlement issue per se, preferring to focus on the recent recognition of Palestinian statehood by several South American countries as a way of putting pressure on Israel to return to the negotiating table.
The Middle Eastern Arabic press also appeared to feel that the statehood issue was the crucial one.
SHIMON SCHIFFER IN ISRAEL'S YEDIOT AHARONOT
Netanyahu agreed about a year ago to a 10 month freeze under brutal pressure from the Obama Administration. From that moment on, he became an instrument in the hands of the Americans, who understood that it is possible to extract more and more concessions from him. The Palestinians… continued to demand a total freeze that would include Greater East Jerusalem. Moreover, they succeeded in convincing the international community to side with them also in the matter of recognizing the state of Palestine within the 1967 borders. The US administration remained helpless.
AKIVA ELDAR IN ISRAEL'S HA'ARETZ
The significance of the US decision to stop pushing for a moratorium is that Obama is refusing to give Netanyahu a seal of approval to build in Jerusalem… The president also understands that after three months of a second settlement freeze, he would have found himself without any kind of agreement and facing repeated Arab demands to extend the freeze again, necessitating another exhausting bargaining session with Netanyahu.
PALESTINIAN NEWSPAPER AL-QUDS
Now that Brazil, Argentina and Uruguay have recognised Palestine as an independent state established within the 1967 borders, what prevents the international community from recognising this state in order to reach a near consensus? This will present Israel with a fait accompli and make it face up to the far-reaching and expensive repercussions of its occupation of Palestinian lands in the light of a new situation that legally and morally rejects the occupation.
HANI HABIB IN PALESTINIAN AL-AYYAM
By recognising the Palestinian state within the 1967 borders, Brazil made an extremely courageous step... This was courageous because Brazil wants to join the Security Council, which requires it to appease the superpowers, especially the United States, and be in line with their policies.
YAHYA RABAH IN PALESTINIAN AL-HAYAT AL-JADIDAH
The government of Dr Salam Fayyad is keeping a cool head in the most difficult conditions and is using all possible means to establish the state of the [Palestinian] lands despite deliberate Israeli obstacles. This is a government that believes in creating a de facto situation on the ground, something of which we have the greatest need.
FAYIZ ABU-SHAMMALAH IN PALESTINIAN FILASTIN
The Palestinians are negotiating without any fighting, to the extent of abandoning resistance. They have recognised Israel and accepted the conditions of the Quartet [UN, US, European Union and Russia], only to lose their cause, homeland and themselves. They are also burying themselves in the deserts of negotiations.
YUSUF AL-KUWAYLAYT IN SAUDI AL-RIYADH
Brazil's courageous step is not haphazard… It marks the beginning of an international stampede, as countries all over the world will realise that recognising a Palestinian state is an ethical obligation and a legal right, not an action to annoy Israel.
Western countries, including France, are looking for excuses not to recognise a Palestinian state, although Western capitals know full well that Palestinian-Israeli talks are stumbling and suspended due to Israel's positions… [There is a] paradox between the European and US positions, which are lagging behind on the one hand, and small countries such as Peru and Uruguay or emerging countries such as Brazil and Argentina, which have shown sympathy to a people suffering from injustice.
BBC Monitoring selects and translates news from radio, television, press, news agencies and the internet from 150 countries in more than 70 languages. It is based in Caversham, UK, and has several bureaux abroad.
Related Internet Links
The BBC is not responsible for the content of external sites.