Benjamin Netanyahu condemns rabbis over property advice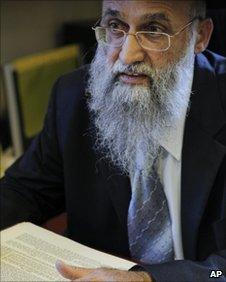 Israeli PM Benjamin Netanyahu has criticised rabbis who issued a statement saying it is a "sin" for Jews to rent or sell property to non-Jews.
About 40 rabbis, many employed by the state, signed the statement, citing concerns about potential mixed marriages and falling property values.
Mr Netanyahu denounced the advice as "undemocratic" and discriminatory.
The move has fuelled charges of racism at a time of mounting friction between Israeli Arabs and Jews.
Arab Israeli lawmaker Ahmad Tibi said the rabbis should be fired and have criminal charges brought against them "because we are talking about incitement or racism according even to Israeli law".
According to a copy of the statement obtained by AFP news agency, it warns that "he who sells or rents [non-Jews] a flat in an area where Jews live causes great harm to his neighbours".
It continues: "After someone sells or rents just one flat, the value of all the neighbouring flats drops... and his sin is great."
The religious opinion first raised controversy last year when Shmuel Eliyahu, the chief rabbi of Safed, in northern Israel, urged that it be applied specifically to Arabs.
Recently, a group of ultra-Orthodox Jews asked other chief rabbis in Israel to publicly express their support for the guidance.
Speaking at an annual Bible quiz on Tuesday, Mr Netanyahu denounced the comments.
"Such things should not be said, neither about Jews nor Arabs," he said. "They must not be said in any democratic land, and especially not in a Jewish democratic state that respects the morality of the heritage of Israel and the Bible."
About a fifth of Israel's population of 7.5 million are Arabs, some of whom complain of systematic discrimination. Israeli law guarantees full rights to non-Jewish citizens.
The Association for Civil Rights in Israel has called on Mr Netanyahu to take disciplinary action against the chief municipal rabbis on the list, whose salaries are publicly funded.
Religious edicts are often ignored in predominantly secular Israel.
Related Internet Links
The BBC is not responsible for the content of external sites.