Egypt's parliamentary election a farce: ElBaradei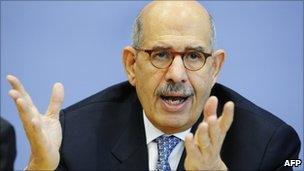 One of the leading campaigners for democratic reform in Egypt, Mohamed ElBaradei, has condemned the recent parliamentary elections as a "farce".
Mr ElBaradei also warned there could be violence if the authorities tried to repress pro-reform demonstrations.
President Hosni Mubarak's National Democratic Party won about 80% of the parliamentary seats.
Opposition parties alleged widespread fraud, while foreign government's criticised the conduct of the polls.
"The regime must understand that it is our right to march in peaceful demonstrations to demand change," Mr ElBaradei said in a video posted on the internet.
He added: "If we are not allowed, the Egyptian people will have no choice but - I hope this will not happen - there will be violence."
Mr ElBaradei, a Nobel peace laureate and former head of the UN's nuclear watchdog, also reiterated his call for a boycott of next year's presidential elections unless constitutional changes are made allowing independents to stand.
After the first round of voting in the parliamentary elections handed sweeping victories to government candidates, the two largest opposition groups, the Muslim Brotherhood and liberal Wafd party, pulled out of the election.
The government has rejected criticism of its handling of elections as unacceptable interference in the country's affairs.
Related Internet Links
The BBC is not responsible for the content of external sites.