Gaza blockade: Israel eases export restrictions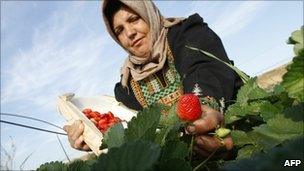 Israel says it will allow more exports out of Gaza, further easing its blockade of the Palestinian territory.
Virtually all exports from Gaza have been forbidden since 2007, when Israel tightened its blockade after Hamas took control there.
Israel has now said that some furniture, textiles and agricultural products would be allowed out, although it did not say in what quantities.
Rights groups welcomed the news, but say the proof is in the implementation.
A Hamas spokesman, Sami Abu Zuhri, dismissed it as a publicity stunt. He noted that Israel still restricts raw materials from reaching Gaza businesses and severely limits the movement of people to and from the impoverished coastal strip.
For more than three years, only flowers and strawberries have sporadically been allowed out of the strip, says the BBC's Jon Donnison in Ramallah.
The US, European Union and the United Nations have long been urging Israel to completely lift its ban on exports from Gaza, our correspondent says.
But Israel's security cabinet voted on Wednesday only to ease export restrictions, saying the move was "designed to improve the lives of the [Palestinian] population".
Tony Blair, the international envoy for the Middle East, welcomed the move as a "significant step", but noted that there was "a long way still to go".
The Israeli rights group, Btselem, said the "true test" would be in how the government implemented the eased export restrictions.
"In the past, even while allowing import and export, Israel placed arbitrary restrictions that impaired trade," it said in a statement.
Israel and neighbouring Egypt shut down Gaza's border crossings when an Israeli soldier was captured in June 2006, and tightened the blockade further when Hamas took control of Gaza a year later.
Israel says the measures are necessary to stop weapons smuggling and to put pressure on Hamas, but the UN says the restrictions amount to collective punishment of Gaza's 1.5 million people.
Unemployment is running at about 40%, and the UN estimates that 80% of people are reliant on food aid.
Israel began allowing most consumer goods into Gaza in June, in the face of an international outcry over a deadly commando raid on a Turkish aid flotilla. But it still limits the import of construction materials.
Last month, the UN said there had been "little improvement" for people in Gaza, as only a fraction of the pre-blockade consumer goods and construction materials were being allowed in.
Related Internet Links
The BBC is not responsible for the content of external sites.