Iranian politicians call for UK ambassador recall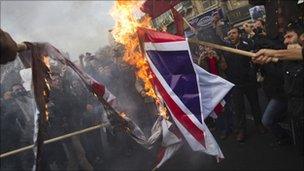 Iranian politicians have called for Britain's ambassador to Tehran to be expelled after comments he made about the country's human rights record.
Ambassador Simon Gass had highlighted concerns about the risks posed to journalists, lawyers and activists in Iran in a statement on his website.
The lawmakers also called for ties between Iran and the UK to be downgraded.
They said Mr Gass' actions had breached diplomatic protocol.
"Gass is a clear example of a persona non grata that must be expelled from Iran," the semi-official Fars news agency quoted hardline lawmaker Hossein Sobhaninia as saying on Sunday.
Conservative politicians also accused Britain of hypocrisy, with one politician saying that what he called the violent suppression of university students in Britain last week proved that the UK cannot even tolerate its own opponents.
The anger from Iran comes after Mr Gass released a statement on International Human Rights Day about the threats to civil society activists around the world.
"Nowhere are they under greater threat than in Iran," the ambassador wrote.
He highlighted the case of human rights lawyer, Nasrin Sotoudeh, who was arrested in September and is accused of acting against national security.
One Iranian politician said Simon Gass needed to learn "ambassadorial ethics".
The BBC's Iran correspondent James Reynolds says that the Iranian establishment believes that it has three main enemies - the United States, Israel, and the UK. It maintains diplomatic ties only with the UK.
Now, Iran's conservative politicians are calling for even these ties to be downgraded, our correspondent says.
Dozens of Iranian government supporters meanwhile held a demonstration outside the British Embassy in Tehran to protest against the recent killing of an Iranian nuclear scientist.
Iran accuses the intelligence services of Britain, the US and Israel of carrying out this attack.