Stormy weather in Egypt kills at least 18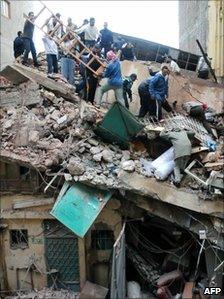 At least 18 people have died in accidents caused by storms in Egypt, the country's state media reported.
Dozens more were injured in road accidents and when buildings collapsed after being battered by sandstorms and rain.
Fierce winds, heavy rains and snow have lashed eastern Mediterranean and Middle Eastern countries for several days.
The storms have sunk a ship off the Israeli coast, closed ports and disrupted shipping in the Suez Canal.
Rescue workers pulled the bodies of six workers out of the debris of a factory building that had collapsed in the northern city of Alexandria on Sunday.
One man who had been wounded in the accident died of his injuries on Monday, bringing the overall death toll of the collapse to 10.
Rescue workers were still searching for more workers believed to be trapped under the rubble.
Officials had denied earlier reports that the collapse of the textile factory was related to the bad weather.
But the state-owned al-Ahram newspaper said the heavy rains had damaged the structure of the factory.
The paper reported that several other buildings had collapsed across Egypt, causing more deaths.
Sandstorms, rain and poor visibility also led to a number of road accidents which killed and injured dozens, officials said.
The storms have ended a long drought in Lebanon, Syria and Israel and came just a week after more than 40 people died in a forest fire near Israel's northern port of Haifa.
At the weekend, shipping was delayed through the Suez Canal and most Egyptian ports, both on the Red Sea and the Mediterranean - including the country's largest at Alexandria - were closed, with winds reaching speeds of up to 60km/h (37mph).
Waves of up to 10m (33ft) battered coasts, damaging fishing boats in Lebanon. In Syria, snow blanketed the streets of the capital, Damascus, and closed roads.
Related Internet Links
The BBC is not responsible for the content of external sites.