Press surprised at Mottaki dismissal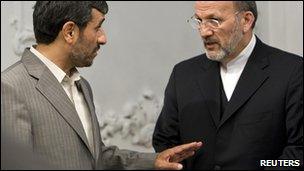 Iranian newspapers of all hues expressed surprise at the abrupt dismissal of Foreign Minister Manouchehr Mottaki.
A newspaper close to Supreme Leader Ali Khamenei called it "insulting", and a pro-reform paper said it was "shocking".
Tehran-e Emruz, a conservative paper often critical of the government, thought the dismissal would harm Iran's image abroad. Another conservative newspaper, Khorasan, saw it as part of a purge of officials by President Ahmadinejad.
The dismissal of Manouchehr Mottaki from his position, while he was on an official visit to Senegal as Iran's foreign minister, has made Iranians and foreigners alike ask what urgent issue made Ahmadinejad take this step without waiting a day or even several hours... He not only dismissed him but also released the news to the media... In diplomatic language, sacking a minister while he is on a foreign mission shows a serious and sudden problem in the foreign policy of the country, as well as being a clear insult to dismissed minister.
The dismissal of the foreign minister in the current international situation is absolutely unbelievable and shocking. Mottaki was powerful in negotiations and international relations. Considering the situation we are in at the moment, and in the run-up to the next round of the nuclear negotiations, the dismissal of a minister well-informed in foreign affairs is incredible.
However Mottaki acted in office, the way he was dismissed will have a negative impact on the Islamic Republic of Iran's image abroad... Whether we like it or not, a foreign minister is the representative of the country in the international community and his remarks are Iran's official position to the world… Could the president not have waited a few hours to sign the letter of dismissal?
Last summer, Ahmadinejad appointed his own special representatives for Middle Eastern, Asian, Afghan and Caspian Sea affairs. This may have been the beginning of the end for Mottaki at the Foreign Ministry... the choice will possibly indicate continuation of the strategy of change in the 10th government... to withdraw the movement called the 'traditional rightist' from the cabinet.
BBC Monitoring selects and translates news from radio, television, press, news agencies and the internet from 150 countries in more than 70 languages. It is based in Caversham, UK, and has several bureaux abroad.
Related Internet Links
The BBC is not responsible for the content of external sites.