UAE hotel boasts 'most expensive Christmas tree'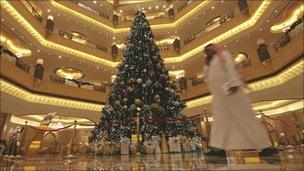 A glitzy hotel in Abu Dhabi has put on show a jewel-encrusted Christmas tree which it says is worth over $11m (£7m).
Items of jewellery studded with scores of precious stones are draped on the tree's branches, along with more traditional baubles and lights.
While the tree alone is worth a mere $10,000, the jewellery adds more than $11m to the value, said the hotel's general manager Hans Olbertz.
He admitted the idea for the tree was hatched by the hotel's marketing team.
The hotel has a tree every year, Mr Olbertz said.
But this year, "we said we have to do something different", AFP news agency quoted him as saying.
The vast majority of the population of the oil-rich UAE are Muslim.
But Mr Olbertz said he did not think the tree would offend local sensibilities.
"It's a very liberal country," he said, according to AFP.
The Emirates Palace hotel would ask the Guinness World Records to certify the tree as the world's most expensive, Mr Olbertz said.
The bracelets, necklaces and watches which adorn the 13m (43-foot) tree contain 181 diamonds, pearls, emeralds, sapphires and other precious stones.
The tree sits in the sumptuous lobby of the 302-room hotel, which is reportedly decorated with gold leaf.
Asked what security measures were in place to prevent theft of jewellery from the tree, assistant director of marketing Hazem Harfoush said the tree was "good proof that Abu Dhabi is a safe destination".
And the hotel was even safer, Mr Harfoush told the BBC.
"We have 24/7 security, four security guards closely monitoring the space plus security cameras."
Previous publicity-seeking efforts by the hotel include the creation of a $1m Valentine's Day package and the installation of what was said to be the world's first gold vending machine.
Asked whether the tree had brought fresh media attention, Mr Harfoush said it had.
"We've had non-stop interest," he said.
Related Internet Links
The BBC is not responsible for the content of external sites.