'Israeli spying devices' found in Lebanon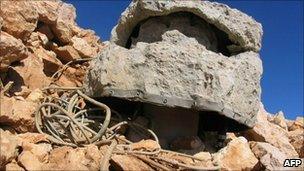 The Lebanese army has said it has dismantled two Israeli spy systems planted in the mountains above Beirut.
The army said it was alerted to the long-range surveillance devices by the Shia Islamist movement, Hezbollah. One of the devices bore writing in Hebrew.
Meanwhile, an explosion in the southern port of Sidon late on Wednesday sparked reports of a possible Israeli attempt to destroy a third device there.
Israel denied any involvement, saying there had been "no unusual activity".
On Wednesday, the Lebanese army released a statement saying troops had located two sophisticated, Israeli-made surveillance devices in the mountains of Sannine and Barouk, north and south of the capital, Beirut.
Pictures on the army website showed devices concealed inside large fake rocks on the slopes of the mountains.
The system found in Sannine included a camera, a device to send images and a third to receive signals, the army said.
The device found in Barouk was "more complicated", it added.
The system was placed at a height of 1,715m and made up of two artificial boulders.
One boulder contained equipment for transmitting and receiving signals, which covered the towns of the western and central Bekaa Valley - a Hezbollah stronghold - towns in southern Lebanon, and parts of Syria.
It had the ability to communicate with wireless transmission stations in Lebanon and the Palestinian territories, the army said.
The other boulder contained a large number of batteries which would have provided power for the equipment for a number of years, it added.
One picture showed a device bearing the words "mini cloud" in Hebrew, along with the name of the manufacturer - "Beam Systems Israel Ltd" - in English.
The army said it planned to remove the cameras and urged citizens to inform authorities about any suspicious objects they found.
Earlier this month, Hezbollah said it had discovered an Israeli device spying on its private telecommunications network.
In a speech late on Wednesday, Hezbollah leader Sheikh Hassan Nasrallah said underground Israeli spy radars were sending pictures "day and night".
He told supporters that Hezbollah was ready to fight any Israeli attack on Lebanese sovereignty, despite internal divisions over a UN-backed tribunal investigating the 2005 assassination of former Lebanese Prime Minister Rafik Hariri.
More than 100 people in Lebanon have been arrested since last year on suspicion of collaborating with Israel.
Hezbollah fought a 34-day war against Israel in 2006 that left 1,200 Lebanese and 160 Israelis dead. Lebanon and Israel remain officially in a state of war.
Israel and the US have accused Syria of helping Hezbollah rearm. Earlier this year, Damascus denied it was supplying Scud missiles to the group.
Related Internet Links
The BBC is not responsible for the content of external sites.