Christians flee central Iraq in thousands, UN reports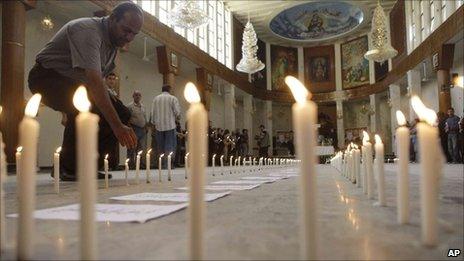 The UN refugee agency says thousands of Iraqi Christians are fleeing from central provinces of the country.
They are seeking refuge in the relatively safe Kurdish-controlled region in the north.
The UN High Commission for Refugees said about 1,000 families have left Baghdad and Mosul province since an attack on a church left 68 people dead.
It said the flight of Christians to other parts of Iraq and abroad has become "a slow but steady exodus".
The UNHCR also said it was dismayed that European governments are deporting failed Iraqi asylum seekers to areas of the country it does not consider safe.
"UNHCR strongly reiterates its call on countries to refrain from deporting Iraqis who originate from the most perilous parts of the country," Melissa Fleming, the agency's chief spokesperson, said.
Nearly 70 people died as security forces stormed a Catholic church in Baghdad to free dozens of hostages on 31 October.
A number of gunmen entered Our Lady of Salvation in the city's Karrada district during Mass, sparking an hours-long stand-off.
UNHCR offices in Iraq are recording a significant increase in Christians fleeing Baghdad and Mosul for the the Kurdistan Regional Government Region and Nineva region, the UNHCR said.
"We have heard many accounts of people fleeing their homes after receiving direct threats. Some were able to take only a few belongings with them," Ms Fleming said.
UNHCR offices in Syria, Jordan and Lebanon are reporting a growing number of Iraqi Christians arriving and contacting UNHCR for registration and help.
Churches and non-governmental organisations are warning the refugee agency to expect more people fleeing in the coming weeks.
While overall civilian casualties are lower this year than last, it appears that minority groups are increasingly susceptible to threats and attacks.