US commander Mike Mullen reassures Gulf states on Iran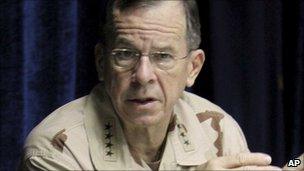 The top US military commander has reassured Persian Gulf nations of Washington's support in the face of regional concerns about Iran.
Speaking in Bahrain, Adm Mike Mullen said Tehran was a threat to peace but that the US "takes very seriously our security commitments in the Gulf region", AP news agency reported.
Gulf leaders have expressed fear over Iran's nuclear programme, which the US says is aimed at making a nuclear bomb.
Iran says its intentions are peaceful.
Adm Mullen held talks with the king of Bahrain, which hosts a large US naval base and lies across the gulf from Iran.
The US was "very ready" to meet any challenge from Iran, he said. "There are real threats to peace and stability here, and we've made no secrets of our concerns about Iran."
Iran has consistently denied that its nuclear programme is geared towards weapons, but was recently subjected to a fourth round of UN sanctions aimed at curtailing its nuclear activities.
However, Adm Mullen expressed fear that Iran was not being deterred.
"From my perspective I see Iran continuing on this path to develop nuclear weapons, and I believe that that development and achieving that goal would be very destabilising to the region."
He said he hoped Iran would one day become "responsible regional and international players", but he said he had not yet seen any evidence of this.
He said "all options remain on the table" for dealing with Iran, but repeated his view that a pre-emptive military strike was not favourable.
Earlier this month, Iran and world powers resumed nuclear talks in Geneva, which both sides characterised as positive, although there was no sign of a breakthrough.
Related Internet Links
The BBC is not responsible for the content of external sites.