Israeli air strike kills five in Gaza Strip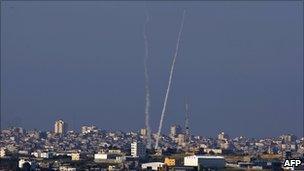 An Israeli air strike has killed five people in the Gaza Strip, according to Palestinian sources and the Israeli military.
The five killed were militants, Palestinian hospital sources said.
The strike targeted "a squad of terror operatives", Israel said, "who were preparing to launch rockets towards Israeli territory".
Rocket fire from Gaza has dropped sharply since Israel's devastating 22-day offensive in December 2008.
Hamas, the Islamist group which controls the Gaza Strip, says it has tried to stop rocket fire aimed at Israel.
Palestinian sources later identified the five dead as members of a small militant group, Ansar al-Sunna, Reuters news agency reported.
In the past 18 months one person in Israel, a Thai farm worker, has been killed by a rocket fired from Gaza.
According to Israeli Defence Force figures, 180 rockets and mortars have been fired into Israel by militants in 2010.
The United Nations says that in 2010, 55 Palestinians, including 22 civilians, have been killed by Israeli military action in Gaza.
The UN says over 200 Palestinians have been injured in the same period.