Iran hangs 11 Jundullah Sunni militants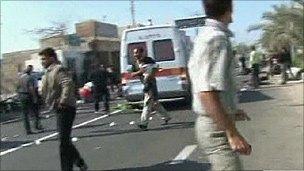 Iran has hanged 11 members of a Sunni militant group Jundullah for murder and terrorism, the country's justice ministry said.
The men were executed at dawn in Zahedan, the capital of the south-eastern province of Sistan-Baluchistan.
Officials said they belonged to Jundullah, which said it was behind an attack on a mosque last week which killed 39 people.
But it is not clear whether those executed were involved in that attack.
In June, Iran killed Jundullah's leader, but attacks have continued.
"The people of Sistan-Baluchestan province, in their continuing campaign against the elements of cruelty and insecurity, hanged 11 people at Zahedan prison," the justice ministry said in a statement on Fars news agency.
Ebrahim Hamidi, head of the provincial justice department, told state news agency Irna that the group had received a fair trial and had been charged with "corruption on earth, fighting against God and the Prophet and confronting the sacred regime of the Islamic Republic of Iran".
The deadly suicide bombing outside the Imam Hossein Mosque in the city of Chabahar on 15 December killed and wounded scores.
Founded in 2003, Jundullah (Soldiers of God) says it is fighting for the culture and faith of the ethnic Baluch people.
The majority of Iran's ethnic Baluchi population live in Sistan-Baluchistan and adhere to the Sunni branch of Islam. They claim that as a minority in a Shia state, they are persecuted by the authorities.
Sistan-Baluchistan is one of Iran's most deprived provinces and its location also makes it a key route in the international drugs trade.
Iran caught Jundullah leader Abdolmalek Rigi while he was on a flight from Dubai to Kyrgyzstan in February, and executed him in June.