Fears of violence in Lebanon over UN's Hariri inquiry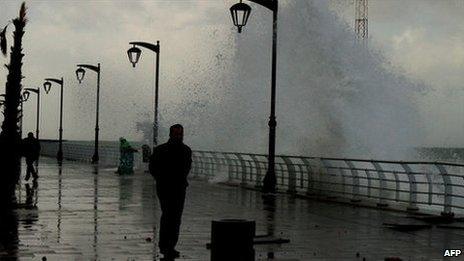 In Lebanon, there are growing fears that a much-anticipated report into the 2005 assassination of the former Prime Minister, Rafik Hariri, could again see clashes in the streets of Beirut.
After a balmy, up-beat summer, there is a dark mood descending on Beirut. In recent days the weather has turned stormy, and the city's famous waterfront, the Corniche, has been battered by winds and high waves.
It was on the Corniche, late at night, that I met Hussein - a man whose family business is showing a marked upturn these days. That is because Hussein sells guns of all shapes and sizes, to whoever can afford to pay for them.
On his mobile phone, he showed me pictures of AK-47 assault rifles, Magnum hand-guns and other mainly US-made weapons.
"Almost all levels of society are expecting civil war," Hussein told me. "Day after day, people are getting ready. The whole of Lebanon is preparing for something."
Violence and instability are, of course, no strangers to Lebanon but the present levels of unease have their roots back in February 2005 when the country's former Prime Minister, Rafik Hariri, and 22 others, were killed in a massive car bomb.
Blame for the murders initially fell on neighbouring Syria, which has long interfered in the affairs of its much smaller neighbour. But the killers have never been caught or officially identified.
Now, with a much-anticipated UN report expected to blame the Lebanese Shia Muslim organisation, Hezbollah, there are fears that a new wave of violence could be unleashed.
Outwardly there is plenty of confidence and bags of money in this 24-hour, extravagant city.
There always seem to be as many flash luxury cars in Beirut as there are in Beverly Hills or Monte Carlo.
Even if you haven't really got the money to pay for the latest designer handbag, borrowing the cash from one of Lebanon's many profitable banks always seems to be a better option than going without that essential piece of designer "bling".
But, beneath the surface, people are nervous because there is simply so much at stake, with UN investigators soon expected to hand their conclusions and recommendations to a pre-trial judge.
At a swanky cafe in downtown Beirut, where ironically Rafik Hariri drank coffee just minutes before his assassination, I met the leading political analyst, Habib Zoghbi.
"There have been too many assassinations in the past, in Lebanon, starting in 1976," says Mr Zoghbi who, like many leading Lebanese, has returned to the country after establishing his name and career overseas.
"These are purely political assassinations and it has become a way of life to kill people who are against someone politically," he adds.
"This will not stop if this tribunal does not continue and doesn't say who are the real people responsible for this killing."
Hezbollah arguably has the most to fear, and lose, from the tribunal.
The Shia movement, which is proscribed internationally as a terrorist organisation, is not only the most powerful military force in Lebanon, it also has considerable political and social backing.
In Beirut's southern suburbs, which were heavily bombed by Israel in the 2006 conflict, Hezbollah has rebuilt thousands of homes and businesses.
Hassan Jishi, who co-ordinates the movement's construction arm, al-Wad, says their support is greater than ever.
"If the government properly existed then we wouldn't need to continue," he told me from his office in the crowded street of a Beirut suburb.
"The government has never helped us. The support for this foundation is increasing because the people's needs are increasing."
Barely two years ago more factional fighting erupted on Beirut's streets. Perhaps realising that its domestic support and reputation are being challenged, Hezbollah has since urged all Lebanese to boycott the UN tribunal.
The leader of the Islamist group, Hassan Nasrallah, even threatened to "cut off the hands" of anyone who blamed it for Hariri's assassination.
With such bellicose language and threats and tensions rising daily, there is every reason to fear a return to even more violence in Lebanon.
Related Internet Links
The BBC is not responsible for the content of external sites.