Saudi King Abdullah leaves New York hospital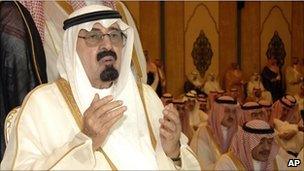 King Abdullah of Saudi Arabia has left hospital in New York following back surgery.
The official Saudi news agency said the 86-year-old king would spend a period of convalescence at his New York residence.
King Abdullah has undergone two operations to treat vertebrae and a herniated disc. Officials said both were successful.
His half-brother, Crown Prince Sultan, has been in charge in his absence.
King Abdullah flew to New York on 22 November and was operated on at New York Presbyterian Hospital for a herniated disc complicated by an accumulation of blood around the spine.
On 4 December he underwent a second operation to repair several vertebrae, a procedure that the royal court said had been planned by his doctors.
"King Abdullah left the Presbyterian Hospital on Tuesday evening... as God gave him good health," the Saudi Press Agency said on Wednesday.
"He moved to his residence in New York to recuperate and continue with physical therapy."
There was no mention of when the king might return to Saudi Arabia.
Crown Prince Sultan is also in his 80s and has been in poor health.
Saudi Arabia has more than 25% of the world's known oil reserves and analysts say the health of the royal family and a possible power vacuum in the country could have global implications.
Saudi Arabia is also a key ally of the US in the Middle East.