Security fears mar Christmas for Iraqi Christians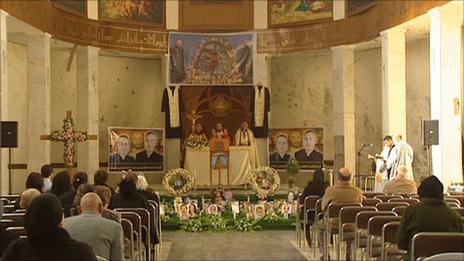 Many church services in Iraq have been cancelled this Christmas amid fears for the safety of the country's Christians.
In October, a suicide attack on the Syrian-Catholic Cathedral in Baghdad killed more than 40 worshippers. Church leaders have now warned Christians to keep celebrations to a minimum after threats of fresh attacks.
The congregation at Baghdad's Syrian Catholic Cathedral is a shadow of what it was.
On the ground in front of the altar are pictures of the men women and children killed when bombers blew themselves up inside the building.
You can still see the bullet holes and debris.
Since that day, many of the survivors have left the country. But others still remain, and church services continue.
Shemmi Hanna was in the church that evening when it was attacked. She saw her husband, her son, her daughter-in-law, and her three-month-old grandson killed.
"I wasn't hurt," she says, "but I wish that I had been killed. I wish I had become a martyr for this church, but God kept me alive for my daughters."
Now Mrs Hanna faces a terrible dilemma - to stay in Iraq and face the possibility of more attacks, or to leave the country of her birth.
"I'm confused. Part of me says stay in Iraq, but the other part of me says, no you have to leave. I don't know. I can't make up my mind."
Since that attack the government has stepped up security outside this and other churches, deploying armed police and installing blast walls.
But they came too late for the people who lost their lives that day, and it will take more than concrete barriers to persuade many Christians that they are still safe in Iraq.
After a spate of recent attacks, 1,000 Christian families are said to have fled to the relative safety of northern Iraq.
Those who remain behind have been warned by Christian leaders to keep their Christmas celebrations low-key.
Some church services and other celebrations have been cancelled.
Used to violence as it is, the attack on the church in October nevertheless shocked Iraq. But it wasn't the first time Christians had been targeted.
Younadem Kanna is a Christian MP in the Iraqi parliament.
He takes his own security very seriously, with bodyguards in black combat fatigues and dark glasses guarding his compound in central Baghdad, their Kalashnikov rifles on prominent display.
He is no stranger to threats of violence: "Two years ago, I opened my box to see what post I had in the parliament," he remembers.
"I saw a letter to me, with official stamps, asking me and three other bishops to leave the country soon. If not, you will be beheaded."
He says he never thought of leaving Iraq. "This is my home," he says.
Some have suggested creating an autonomous province within Iraq, along the lines of the Kurdish region in the north of the country, where Christians could run their own affairs and feel safer. But Mr Kanna rejects the idea.
"Yes, we need a safe haven or safe region, but not to be as a camp, protecting only Christians. Because we are all over Iraq, and we will stay all over Iraq. We are in Baghdad and Basra, everywhere. We have to have our rights everywhere. We are a people of this country. It is our destiny to live together."
At her sister-in-law's home, Amira Nisan helps her daughter decorate the family Christmas tree, behind closed curtains.
She was on her way to the cathedral that fateful evening, when her husband called and asked her to come home. She believes God was protecting her.
The French government offered the victims of the attack sanctuary in France.
Emira applied but says she was rejected because she was not in church at the time.
"What can I do?" she asks. "I have no other place to go, apart from my church and my home. I'm not scared to go to church. But I feel depressed. Sadness dominates everything. The church is no longer the same place we used to visit. It's very, very sad."
The walls of Baghdad's Catholic cathedral are still covered in the blackened remains of suicide bombers who blew themselves up amid the congregation.
Father Ayser Kisko says that, officially, the Church is urging people not to emigrate.
"Emigration is a dangerous disease, it's like bleeding, bleeding, bleeding," he says, after conducting his service.
"We need more than just words, we need radical solutions for those who want to stay. Nobody wants to leave, it is painful and bitter. I have felt it myself. People don't want to leave, but they have no choice."
He admits that, when his parishioners come to him for guidance, he finds himself in an almost impossible position
"If I say you should stay, they ask: 'Can you guarantee my safety, my family's safety, that of my children?' And what can I say, when I can't even guarantee my own safety?"
There have been Christians in Iraq almost since the birth of the religion itself. But the fate of this community is inextricably bound to that of the whole country, whose people still face terrible daily violence, whatever their creed.