Viewpoint: Democracy near despite Egypt election farce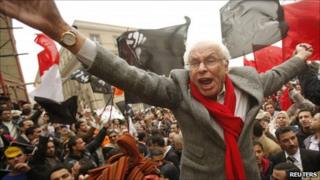 We did not have an election in Egypt.
The term "election" usually refers to a democratic procedure through which people can vote to select their members of parliament, prime minister or president. 
The poll for the People's Assembly on 28 November and 5 December was a miserable piece of theatre and another crime against the Egyptian people.
I joined the opposition calls for a boycott because the last election for the upper house of parliament, the Shura Council, was marred by fraud. 
After the Egyptian government refused to create any standard tool of supervision for the parliamentary election, it was a strong sign that they were going to be rigged. 
International monitors were not allowed and promises were not kept to allow some local monitoring. Even judicial supervision was refused. 
In the end we saw that many people could not get into polling stations and some of those who did manage to were beaten. There is footage that shows government employees apparently filling in ballot papers for everyone.
Costly mistake
The Muslim Brotherhood and the Wafd party did not join the first boycott.
Since their creation in 1928, the Muslim Brothers have typically made the wrong decisions as far as democracy. 
Meanwhile the Wafd members are fighting for reform, but their leader, Al-Sayed al-Badawi, is close to the ruling regime. 
It was only when both groups corrected their mistake and withdrew from the run-off vote that the theatre was spoiled. 
Now it is evident that all members of the new parliament belong to the political regime - so what is its point?
In 2005, at the time of the last parliamentary and presidential elections, we saw the beginning of Kefaya, the Egyptian Movement for Democratic Change and unprecedented street protests. 
Yet, in the end, those elections were fairer only because the regime's old guard, which organised them, had political experience.
Those responsible for the latest elections did not. 
They are the circle of the president's son, Gamal Mubarak, who thought that because they had money, the police and security services which torture Egyptian people, there was no need to even leave the door open to a few opposition members. 
This will prove to be a costly mistake.
Democracy hopes
Despite the setbacks, I do think that democracy in Egypt is very close. 
The situation for millions of Egyptians is terrible.  You have more than half the population living in poverty while at the other end of the scale, there are billionaires like the president's friend, Ahmed Ezz, a steel magnate and powerful politician from the ruling NDP party. 
This leaves us with two countries - lucky Egypt, where Mr Ezz lives, and the bigger Egypt kept in the dark. 
I do not think this situation can last.
While some commentators argue that ordinary Egyptians are not interested in politics, because our election turnout is low, I disagree.
People here do not trust government elections and do not go to vote because they know they will be rigged.  I do not vote myself.
When Egyptians feel elections are fair they join in.  You will find high participation in voting for the syndicates of journalists and judges and for social clubs that are democratic.
I remain optimistic because I think there are signs that this Egyptian regime is weakening. 
Before this election, the basic message from officials to writers calling for democracy was: You write what you want and we do what we want.
But in the run-up poll, it became clear that freedom of speech was no longer tolerated. I believe this is a sign of weakness.
I was told to change the critical tone of my weekly column in an opposition newspaper or stop writing, so I stopped.
I hope to take my fight on the internet.
Alaa al-Aswany is the internationally best-selling author of The Yacoubian Building, a founding member of the Kefaya political movement and columnist. He also continues to practise as a dentist in Cairo.