Turkey 'wants to repair ties with Israel'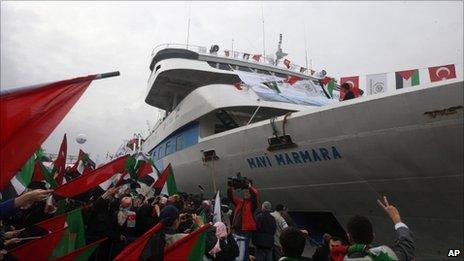 Turkey's foreign minister has said he wants to repair ties with Israel damaged when Israeli troops killed eight Turkish nationals amid clashes on a pro-Palestinian aid ship in May.
Ahmet Davutoglu reiterated that Israel must apologise for the deaths, which led Turkey to withdraw its ambassador.
Israel insists the commandos fired in self-defence and its foreign minister has said there will be no apology.
The ship involved, the Mavi Marmara, has been welcomed back to Istanbul.
The two nations have had 15 years of good relations, including a number of military and trade pacts, and have held talks in Geneva recently to try to restore ties.
But the talks foundered, reportedly because Israel refused to apologise for the 31 May raid.
Mr Davutoglu said the only way for both countries to "preserve relations" would be for Israel to apologise and offer compensation.
"Turkish citizens have been killed in international waters, nothing can cover up this truth," Mr Davutoglu said.
He said Turkish attempts to repair ties - including helping Israel tackle devastating forest fires - had not been reciprocated.
Following the comments, Israel's Foreign Minister Avigdor Lieberman said it should not be Israel to say sorry.
"On the apology issue, this borders rudeness and is even beyond rudeness," he said.
"If anyone has to apologise, it is the Turkish government to Israel for its co-operation with terror entities, for supporting terror."
The Mavi Marmara, which has been undergoing repairs, sailed back to its home port of Istanbul on Sunday afternoon.
Large crowds, including family members of the nine dead activists, greeted the vessel in a ceremony organised by the activists who sent it.
The ship was part of an aid flotilla which was trying to break the Israeli naval blockade of the Gaza Strip.
A blockade has been imposed on the Gaza Strip by Israel and Egypt since the Islamist militant group, Hamas, seized control in 2007.
In the wake of the outcry over the raid, Israel began allowing most consumer items into Gaza, but still maintains a complete air and naval blockade, limits the movement of people, and bans exports.
Israel says the measures are needed to stop weapons being smuggled to militants, but the UN says they amount to collective punishment of Gaza's 1.5 million people.