German reporters held in Iran allowed to meet family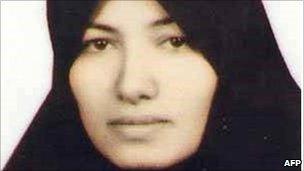 Two German journalists held in jail in Iran have been allowed their first family visit, officials say.
The meetings took place in Iran's north-western city of Tabriz, the Iranian foreign ministry said.
The Germans were arrested in Tabriz in October after reportedly interviewing the son of a woman sentenced to death for adultery and murder.
Tehran says the pair - identified only as a reporter and a photographer - have admitted to violating Iranian laws.
In November they had appeared on Iranian state TV and said they had been "tricked" by an activist in Germany into speaking with the family of Sakineh Mohammadi Ashtiani.
In a statement on Tuesday, the Iranian foreign ministry confirmed that the two German nationals had been able to meet family members in Tabriz on Monday night.
German Foreign Minister Guido Westerwelle has publicly thanked his Iranian counterpart Ali Akbar Salehi for his "support" in organising the meeting.
But Berlin repeated that it was doing all it could to try to secure their release.
In October, Iran said the two had confessed to working as reporters in the country without the proper visas.
Related Internet Links
The BBC is not responsible for the content of external sites.