Iraq suicide bombers kill police commander in Mosul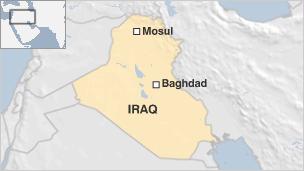 Two suicide bombers have attacked a police compound in the northern Iraqi city of Mosul, killing a commander, police say.
The explosions brought down the building, burying the commander and possibly others under the rubble.
A third suicide bomber was killed by police before he could enter the building.
Military commanders say Mosul is the last major urban stronghold of al-Qaeda in Iraq.
The commander was asleep in his ground-floor office when one of the attackers entered early in the morning and blew himself up, police at the scene said.
The other bomber set off his device shortly afterwards.
A police source told Reuters news agency the commander "was known to be active in pursuing al-Qaeda members in Mosul and for this reason he was targeted."
Militants had tried to kill him several times before.
Although the overall level of violence has fallen in Iraq in recent years, attacks remain common.
On Monday two suicide bombers killed at least 14 people in the town of Ramadi, in Anbar province.