Israel's fomer president falls to disgrace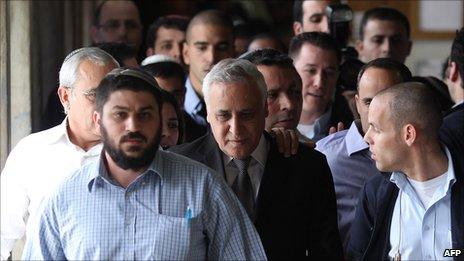 Israel's former president, Moshe Katsav, was visibly shaken as the judge in Tel Aviv read out his guilty verdict on two counts of rape. His son, similarly distraught, called out from the courtroom, "It's not true, it's not true".
With live reports on Israeli television, this unprecedented criminal conviction of a top public official marked the climax of a four-and-a-half year saga that gripped the nation.
Claims that Katsav had raped and sexually assaulted his young, female staffers first surfaced when he was still president.
In 2006, he complained that a female employee was trying to blackmail him. The woman then went to police with allegations of sexual assault, prompting others to come forward with similar complaints.
A year later, Katsav resigned in disgrace.
As well as the lurid details that emerged in the press, portraying a sexual predator who had abused his power in ministerial posts, there were many strange twists to the case.
Most notably, in 2008, Katsav reneged on a plea bargain that would have seen him avoid rape charges and a possible jail term in exchange for admitting lesser sexual offences.
While handing down the verdict, unanimously agreed by three judges, George Karra, who was presiding, told a packed courtroom this had been "a grave mistake".
He also roundly dismissed suggestions the Iranian-born former president had been a victim of ethnic prejudice or a media "witch-hunt".
Both of the latter allegations were repeatedly made by Katsav.
At a news briefing outside the presidential residence, Beit Hanassi, four years ago, he railed at reporters, telling them, "You crossed every ethical journalistic line," and hinted at discrimination. "You wrote when I was elected as president, that this is the end of Zionism," he said.
After his indictment in March 2009, he shook with anger at a news conference and insisted he was "the victim of a lynching". His increasingly erratic behaviour began to raise questions about his judgement and psychological state.
As he pushed through a media scrum outside the Tel Aviv district courthouse today to make his way home, there was no comment from the former president.
He is expected to return next month to be given a prison term of at least four years. However, legal experts point out he may appeal to the Supreme Court.
Hailed as shining example
A jail sentence would be the final mark of disgrace for the former leader whose rise from a poor background was once hailed as a shining example for disadvantaged Jewish immigrants from the Middle East and North Africa.
At age 24, Katsav was Israel's youngest mayor. He entered the Knesset for his Likud party in his thirties and went on to hold a succession of ministerial posts.
In 2000, parliament elected him president in a surprise victory over Israel's Nobel Prize-winning elder statesman, Shimon Peres who eventually succeeded him.
The guilty verdict has been welcomed by women's rights activists, who held up placards outside the court while yelling, "Go to jail, Katsav".
"It's a very significant and important day," said Miriam Schler, director of Tel Aviv's Sexual Assault Crisis Centre. "We feel very satisfied that the court actually did justice with all of these women who were severely abused by Katsav."
Others see the affair as another stain on Israel's already tarnished political record. An earlier president, the late Ezer Weizman, was pressed to resign in 2000 after revelations he received about $450,000 (£292,000) from a French millionaire while he was a minister. The former prime minister, Ehud Olmert is also facing corruption charges.
However, like the prosecutors, many officials and commentators argue it points to a well-functioning judicial system.
"I detect below the surface, a surge of satisfaction," the former chief editor of Haaretz, David Landau told the BBC. "People are saying, 'Our democracy works, our system works. Everyone is equal before the law: the highest and the lowest.'"