Egypt flood kills schoolgirls on bus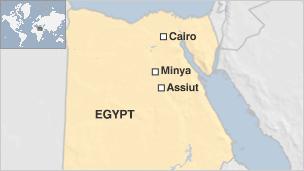 Fifteen people, mostly schoolgirls, were drowned when a school bus was swept off the road by flood waters, Egyptian police say.
The bus was driven into a deep trench and overturned by the torrent. It was carrying 75 girls and two teachers.
Eyewitnesses reported seeing bodies of young girls wearing headscarves and school uniforms floating in the water.
The accident happened late on Wednesday near the city of Minya 200km (120 miles) south of Cairo.
The last two survivors were pulled out of the wreckage early on Friday after at least 15 hours in the water.
An ambulance driver who had reportedly helped rescue 20 girls was himself swept away and died.
The governor of Minya province told the BBC that the bus driver had stopped to have a closer look at the surrounding terrain when the waters suddenly swept them away.
The two teachers both died, police say.
The bus was returning to a village near Assiut from a day-trip to Minya.
Related Internet Links
The BBC is not responsible for the content of external sites.