Palestinians pursue 'Plan B' after failed talks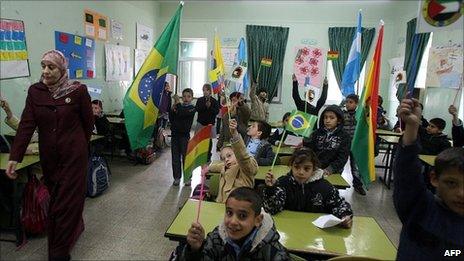 Peace talks between the Palestinians and Israelis have reached an impasse over the thorny issue of Jewish settlements. As Washington searches for a way forward, the Palestinians are taking things into their own hands by pursuing a "Plan B", asking countries to recognise an independent Palestinian state. The BBC's Yolande Knell reports from Jerusalem.
As the Palestinian President Mahmoud Abbas laid the symbolic cornerstone for a new embassy in Brazil on Friday, he hoped the greater significance of the act would be noted.
In recent weeks the South American nation and its neighbours, Bolivia, Argentina and Ecuador, have all officially recognised Palestine as an independent state within 1967 borders - that is to say the West Bank, including East Jerusalem, and Gaza.
Uruguay says it will do the same in 2011 and Palestinian officials suggest at least another two countries are lined up to follow suit, though they are not saying which.
As the prospects for a negotiated two-state solution to the conflict with Israel have dimmed once again, the Palestinians say they are pursuing new and alternative diplomatic options.
"Since all the peace process has been based on the 1967 borders we are asking countries to recognise us on these borders," says Palestinian negotiator, Nabil Shaath, who has accompanied Mr Abbas on his trip.
"This is revitalising and re-consecrating a principle that emanates from international law and all the agreements that we've signed before."
Israel however, disagrees. The foreign ministry spokesman, Yigal Palmor, insists that the Palestinians can only achieve statehood through a peace deal with Israel.
"We are now breaching the whole framework that has allowed us to negotiate so far," he states.
The Israelis want the Palestinians to drop their tactic and return to direct talks.
These were launched on 2 September 2010 in Washington but stalled just weeks later when a partial freeze on Israeli settlement building in the occupied West Bank expired.
"By rewarding the Palestinians as it were, when they refuse to negotiate, this will certainly not encourage them to return to the negotiating table," Mr Palmor says. "If we don't negotiate how will we ever be able to get an agreement?"
The United States also opposes the Palestinian approach. This month the House of Representatives passed a resolution calling on Palestinian leaders to stop trying to gain recognition for a state from other nations.
It urged the US administration to "deny any unilaterally declared Palestinian state" and "veto any resolution by the United Nations Security Council to establish or recognise a Palestinian state outside of an agreement negotiated by the two parties".
Recognising state-building
In Brussels, however, the efforts of Mr Abbas and his aides have been slightly more successful, reflecting growing frustration at Israeli intransigence on settlement building.
A recent EU communique hinted that recognition of a Palestinian state was a future option.
"We welcome the World Bank's assessment that "if the Palestinian Authority maintains its current performance in institution building and public services, it is well positioned for the establishment of a state at any point in the near future,"" it read.
The EU has since signed a new 31m-euro ($41m) financing deal to help the Palestinian Authority's much lauded drive to build the institutions of statehood. This has already brought economic growth and improvements in security and public services.
Mr Abbas can celebrate such results on his new year visit to South America as he meets leaders and Palestinian expatriates who live in large numbers in the region.
Reports suggest that meanwhile Israel has stepped up diplomatic activity, warning of the dangers of prematurely recognising Palestinian statehood.
The late Palestinian leader, Yasser Arafat, unilaterally declared the establishment of a state in 1988, winning recognition from about 100 countries, mainly Arab, Communist and non-aligned states - several of them in Latin America.
However, this has had little impact on efforts to resolve the Arab-Israel conflict.
Now, though, the Palestinians hope that recognition can be part of their "Plan B", adding to pressure on Israel after the US officially abandoned its attempts to secure a new moratorium on settlement construction as it works to revive peace talks.
While Washington has proposed a return to indirect negotiations, the Palestinians are refusing.
They say that for now they will continue a strategy to gain international support for their cause.
This also includes, Palestinian officials say, non-violent opposition to Israel's occupation of the West Bank, pursuing reconciliation between rival Palestinian political factions and asking the UN to condemn Israeli settlements.
Related Internet Links
The BBC is not responsible for the content of external sites.