Palestinian orchestra to hold debut concert in Ramallah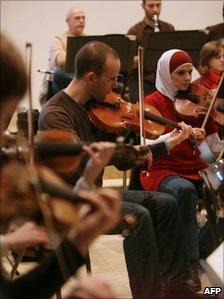 The first Palestinian orchestra of professional classical musicians since 1948 is due to perform its debut concert in Ramallah in the West Bank.
The Palestinian National Orchestra will play a mix of Palestinian classical compositions, as well as some classics such as Mozart and Beethoven.
They will also hold concerts on 1 January in Haifa and Jerusalem.
All of the musicians are of Palestinian origin, and many have played with orchestras around the world.
The group is an initiative of the Edward Said Conservatory of Music, named after the late Palestinian writer and academic, and was formed in 1994.
The programme also consists of a piece by the modern Hungarian Jewish composer, Gyorgy Ligeti, both of whose parents were sent to Auschwitz.