Palestinian dies after inhaling gas at W Bank protest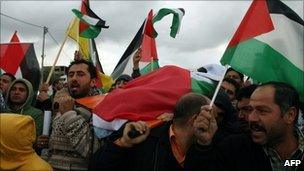 A Palestinian woman has died after inhaling gas fired by Israeli troops during a protest against the West Bank barrier at Bilin on Friday, medics say.
Jawaher Abu Rahmeh, 36, died early on Saturday despite undergoing hours of treatment in a hospital in the nearby city of Ramallah, its director said.
The Palestinian Authority condemned what it called an Israeli "war crime".
The Israeli military said the protest was a "violent and illegal riot" and that it was investigating the death.
Officials had "unsuccessfully contacted the Palestinian Authority to obtain a medical report", a statement added.
Military sources told Israeli media that Ms Abu Rahmah's death might have been the result of an asthmatic condition compounded by tear gas.
Palestinians, together with Israeli and international activists, have held weekly mostly peaceful protests against the barrier near Bilin for the past five years. Some have been attended by stone-throwing youths.
Israeli security services have fired tear gas, stun grenades, rubber bullets and, on occasion, live rounds at the protesters.
On Friday, Ms Abu Rahmeh was taking part in the demonstration with about 250 others when tear gas was reportedly fired by Israeli troops in the area.
She was later admitted to Ramallah Hospital "with very weak breathing as a result of inhaling a gas", its emergency department director, Dr Mohammed Eidi, told the Reuters news agency.
"The type of gas is still not identified. We put her on respiratory system. But she died this morning," he added.
About 3,000 people attended her funeral in Bilin later on Saturday.
The Palestinian Authority's chief peace negotiator, Saeb Erekat, told the AFP news agency that it condemned the "abominable crime by the Israeli occupation army in Bilin against people taking part in a peaceful demonstration and consider it an Israeli war crime against our people".
Israel says the barrier was established to stop Palestinian suicide bombers entering from the West Bank.
But Palestinians point to its route, winding deep into the West Bank around Israeli settlements - which are illegal under international law - and say it is a way to grab territory they want for their future state.
In 2004, the International Court of Justice at The Hague issued an advisory ruling that the barrier was illegal and should be removed where it did not follow the Green Line, the internationally recognised boundary between the West Bank and Israel.