Palestinian shot by Israelis at West Bank checkpoint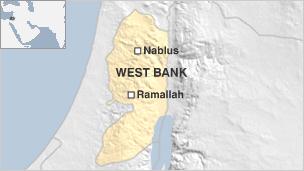 A Palestinian man has been shot dead after trying to attack Israeli troops at a checkpoint near the West Bank city of Nablus, the Israeli army and Palestinian officials say.
The man, in his 20s, tried to attack troops with a bottle when he was refused permission to pass through the checkpoint, they said.
The incident happened early on Sunday.
On Friday, a Palestinian woman died after inhaling gas fired by Israeli troops at a protest in Bilin.
An Israeli army spokeswoman said the contents of the glass bottle were not known.
"The soldiers apparently felt threatened," she added.
The lawyer of the woman who died on Friday has accused the military of a cover-up.
"Once again the army is covering up the actions of its men, instead of apologising and conducting a serious inquiry," Michael Sfard told Israel's army radio after the military announced an investigation into the death of Jawaher Abu Rahmeh.
It is not clear how Ms Abu Rahmeh died as tear gas is not meant to be lethal.
Doctors say the gas can kill on rare occasions if a victim has a pre-existing condition.
Although some reports said Ms Abu Rahmeh had suffered from asthma since childhood, her parents are reported to have said she was healthy and did not have the respiratory condition.
Rateb Abu Rahmeh, a doctor and a spokesman for the Bilin protesters, said she had a "weak immune system", the Associated Press news agency reports.
Dr Mohammed Eideh, who treated Ms Abu Rahmeh in the Palestinian city of Ramallah, said she died of "respiratory failure and then cardiac arrest" caused by tear gas inhalation. He said he did not know if she had a pre-existing condition.