Gaza blockade: Asia 1 aid convoy reaches Palestinians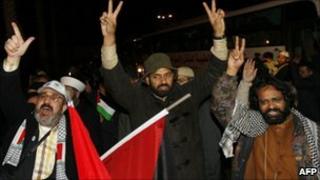 Some 100 pro-Palestinian activists, part of an Asian aid convoy, have crossed into the Gaza Strip from Egypt.
The convoy's $1m (760,000 euros) worth of cargo was due to arrive separately by boat later, organisers said.
Egypt refused visas to some Iranians and Jordanians travelling with the convoy, which left India on 2 December.
Activists had planned to reach the Hamas-run Gaza Strip by 27 December, the second anniversary of Israel's 22-day Cast Lead offensive on Gaza.
More than 1,400 Gazans and 13 Israelis died during the 2008-2009 Gaza war.
Israel said Operation Cast Lead was aimed at halting militant attacks on Israel from Gaza.
According to the United Nations, the Israeli military campaign left more than 50,000 homes, 800 industrial properties and 200 schools damaged or destroyed.
The Asian aid convoy - dubbed Asia 1 - included a boat carrying 300 tonnes of medicine, food and toys, as well as four buses and 10 power generators for hospitals, Palestinian officials have said.
It was the latest effort by international activists to break Israel's blockade on the impoverished Gaza Strip.
In May 2010, nine activists on board a Turkish aid ship were killed when Israeli naval commandos stormed their aid flotilla, sparking an international outcry.
Since then, the Israeli authorities have eased some of the restrictions on imports into Gaza, but international aid agencies working there say that there has been "little improvement" for people in Gaza.
Israel heightened restrictions on Gaza after Palestinian militants captured one of its soldiers, Gilad Shalit, in June 2006. He has yet to be released.
Israel and Egypt further tightened the blockade in 2007 after the Islamist movement Hamas came to power. Israel, the US and the EU regard Hamas as a terrorist organisation.
Over the past decade, Hamas has fired thousands of rockets into Israel, although that number has declined dramatically since Operation Cast Lead.
The rockets fired by Palestinian militant groups into Israel rarely cause injury or damage, but they do cause widespread fear.