Spain to investigate deaths of Iranian exiles in Iraq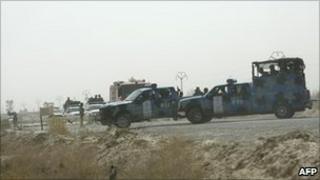 A Spanish judge has opened a probe into a raid by Iraqi security forces on a camp housing an Iranian exile group in July 2009 which left 11 people dead.
Judge Fernando Andreu is looking into whether crimes against humanity were committed when the troops took control of Camp Ashraf in Diyala province.
He said he had summoned Diyala's police chief to Madrid to answer questions.
Under Spain's universal justice doctrine, grave crimes committed in other countries can be prosecuted.
Judge Andreu said that the Geneva Convention applied to the case, as it addresses the protection of civilians in wartime.
Another factor was that Iraq was not investigating the incident properly, he added.
Diyala's police chief, Gen Abdul Hussein al-Shemmari, is accused of directing the attack at Camp Ashraf, where more than 3,000 members of the banned opposition group, the People's Mujahideen of Iran (PMOI), had been confined by the US military since the invasion in 2003.
The complaint filed by Spanish human rights lawyers on behalf of relatives of the victims alleges that police and soldiers shot and beat unarmed residents of the camp so they could clear a space to build a police station there.
The US military was not notified of the operation.
Gen Shemmari has denied any involvement. Iraqi officials have blamed the exiles for the violence, saying they threw stones and petrol bombs.
The PMOI, also known as Mojahedin-e Khalq, is considered a terrorist group by the US and Iran.
It set up Camp Ashraf in Iraq in the 1980s and was welcomed by then-President Saddam Hussein, who was fighting a war against Iran.
The PMOI's military wing fought alongside Iraqi soldiers.