Jerusalem boxing club: Blood, sweat and tolerance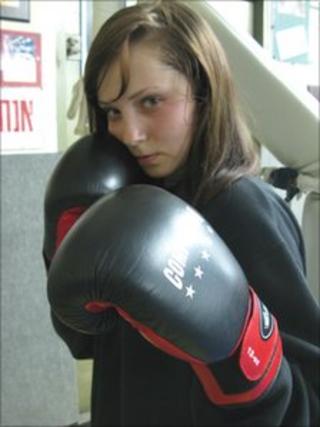 Two people trying to knock each other out is not the first thing you might associate with tolerance.
But there is something special about the bomb shelter-turned-boxing club in West Jerusalem.
In a country which some argue is becoming increasingly segregated, it attracts young people from a wide range of religious and cultural backgrounds.
Ethiopian, Russian and Orthodox Jews all come here, as do Palestinians from East Jerusalem.
Hidden underground, the walls are lined with black-and-white photographs from various boxing tournaments in Israel and the former Soviet Union.
Christina Stadnik, a 17-year-old Jewish girl who moved to Israel from the Ukraine, is one of the club's star members, having twice won championships in Israel.
For her, the club is more than just a place to train.
"Ever since I arrived in Israel, I have spent most of my time with other Russian-Jewish people," she says.
"I never thought I'd talk to other Israeli people or Arabs as I hated them when I came here. But then I met people in this boxing club, and all of them, no matter whether they are Russian or Arab, are nice."
Ismail Jafri, a 36-year-old Palestinian who did not want to be photographed, has been coming here from East Jerusalem for the past 10 years.
He says that the club has become his family.
"Whether people are Ethiopian, Orthodox or Muslim, everyone here is equal," he says.
Rolling with the punches
The friendships made here extend beyond training times.
The boxers tell me that they have helped find each other jobs working as security guards at some of the pubs in Jerusalem.
But running a club for such a diverse group of boxers can be challenging.
The fact that most boxing tournaments take place on a Saturday poses a problem for those Orthodox boxers who observe the Sabbath, when Jews are required to rest and refrain from any work.
Yet the trainers have found a way around this.
"The Orthodox boxers arrive at the tournament [location] on the Friday," explains Ariel, the son of the one of the instructors, as driving is prohibited.
"Since the Orthodox boxers can't even take the tournament gloves from the hotel to the boxing ring [as carrying objects on the Sabbath is not allowed], we bring the gloves to them…
"All they need to do is get into the boxing ring, put the gloves on, box, and take them off. That's it."
'Good soldiers'
Ariel's father is Gershon Luxembourg, former boxing champion of Uzbekistan and seven-time champion in Israel.
He started boxing in Uzbekistan as a boy, partly, he says, to defend himself against attacks "because we were Jews".
He was taught by the celebrated boxing coach Sidney Jackson - an American-Jewish boxer who, after becoming stranded in Tashkent during the Russian Revolution, formed the Soviet School of Boxing.
Mr Luxembourg says he started the Jerusalem Boxing Club, together with his brother Eli, in order to make a contribution to society.
"I wanted to help these children become good soldiers," he says. "Boxers are gentlemen and I want to encourage children [of diverse communities] to respect each other."
Segregation
In a recent article, Amnon Beeri Sulizeanu, the co-executive director of the Abraham Fund - an organisation which promotes coexistence between Israel's Jewish and Arab citizens - warned that segregation of Jews and Arabs had now become "almost absolute."
Segregated housing, education, and entertainment venues were all contributing to the "growing mutual alienation of Jews and Arabs," he wrote.
Even the boxers say that beyond the Jerusalem boxing club, they don't spend time with people from different ethnic or religious backgrounds.
"Most of us live in closed communities [so] this is a great place to get some perspective," says Ariel.
"You read something in the paper, you get heated up, then you come here to practice and hear a different point of view, and become more open to other people and opinions," he adds.
"And in a city like Jerusalem, this is very important."