Iran rights lawyer Nasrin Sotoudeh 'gets 11 years jail'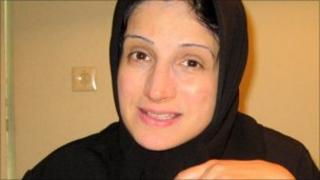 Prominent Iranian human rights lawyer Nasrin Sotoudeh has been sentenced to 11 years in jail, her husband has said.
She has also been banned for 20 years from working as a lawyer and from leaving the country.
Sotoudeh was arrested in September, accused of acting against national security.
Her husband, Reza Khandan, told the BBC's Persian Service that the sentence was unduly harsh and her lawyers intended to appeal.
The New York-based International Campaign for Human Rights in Iran (ICHRI) also called the sentence a "gross miscarriage of justice", adding it should be overturned on appeal.
Mr Khandan said his wife was found guilty of acting against national security, propaganda against the regime and membership of the Human Rights Defenders' Centre, a group headed by Iranian Nobel Peace Prize winner Shirin Ebadi.
The accusations against Sotoudeh, a mother of two, were mainly over interviews with foreign-based media about her clients who were jailed after Iran's disputed June 2009 presidential election, he added.
Sotoudeh has represented Iranian opposition activists and politicians, as well as Ms Ebadi.
'Very heavy sentence'
Mr Khandan told the BBC that his wife had told him her interrogators had vowed not to allow the court to give her less than 10 years in jail.
"But none of us, including her lawyers, thought that she would really be given such a sentence. Unfortunately, today we realised that this has happened," he said.
"A very heavy sentence has been given to a person who... well, you know as well as everyone else... on what charges she's been arrested and how the trial has been held and the sentence issued."
ICHRI spokesman Hadi Ghaemi said: "This is a transparently political sentence aimed at taking one of Iran's leading human rights defenders out of practice via a gross miscarriage of justice.
"Nasrin Sotoudeh has broken no laws, but is being jailed because she has upheld Iranian and international law in a judicial system bent on violating human rights."