Senior UN relief official John Ging leaves Gaza post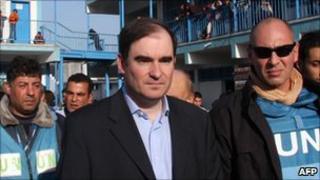 The United Nations has announced that one of its most senior figures in Gaza, John Ging, is to leave his post.
Mr Ging, the Gaza director of the UN Relief and Works Agency (Unrwa), is to take up a new UN job based in New York.
For almost five years, the 45-year-old Irishman has been one of the most outspoken and passionate critics of Israel's policy towards Gaza.
He described Israel's blockade of the Palestinian territory as a "medieval siege".
Israel tightened the blockade in 2007 after the Islamist movement Hamas took power in Gaza. Israel regards Hamas as a terrorist organisation.
Also on Monday, the UN announced that its director of operations in the West Bank, Barbara Shenstone, would also leave her job. She is to return to her native Canada.
A spokesperson for Unrwa said there was no connection in the resignations being announced at the same time.
"Barbara and John have made exceptional contributions to Unrwa's work under the most difficult circumstances," Unrwa Commissioner-General Filippo Grandi said in a statement.
There was no word on who their replacements might be.
Assassination attempts
Mr Ging witnessed some of the most difficult times in Gaza's history.
These included Operation Cast Lead, Israel's major offensive in Gaza in January 2009 which left over 1,300 Palestinians as well as 13 Israelis dead.
After the war, he described Gaza as having been "back to the stone age".
Mr Ging is one of the most high-profile Westerners living and working in Gaza.
He has twice survived assassination attempts.
On one occasion in March 2007, masked gunmen opened fire on his armoured car. A second attempt later that year left one Palestinian dead and several injured.
Unrwa works with Palestinian refugees driven out of their homes of who fled after the state of Israel was created in 1948 and their descendents.
It provides assistance, protection and advocacy to some 4.7 million registered refugees in the Middle East.