Jordan tribes criticise Queen Rania's 'political role'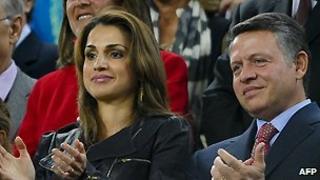 A group of Jordanian tribal leaders has taken the unusual step of urging King Abdullah to curtail what they see as his wife's involvement in politics.
The 36 tribal leaders attacked Queen Rania's Palestinian origins and said she was "building power centres for her own interests".
Following uprisings in Tunisia and Egypt, the king has been under pressure to make political and economic reforms.
Last week, King Abdullah sacked his cabinet and appointed a new PM.
"She is building power centres for her interest that go against what Jordanians and Hashemites have agreed on in governing and is a danger to the nation and the structure the state... and the institution of the throne," the statement from the Bedouin chiefs said.
The tribes, from Jordan's East Bank, are usually supportive of the Hashemite monarchy, with members holding important positions in the military and government.
Queen Rania is of Palestinian, or West Bank, origin, like the majority of Jordanians. She has a prominent profile and has been supportive of women's rights.
Like other countries in the region, Jordan has seen large street protests calling for political and economic reforms. But the protesters have not called for the king to step down.
"We call for a modern electoral law based on consultations with all political forces in Jordan, enhancing freedoms and the formation of a national salvation government to oversee a transparent parliamentary election," the tribal leaders' statement said.
"Disregard for the content of the statement will throw us into what happened in Tunis and Egypt and what will happen in other Arab countries," the statement warned.