Iran: Mehdi Karroubi 'house arrest' after protest call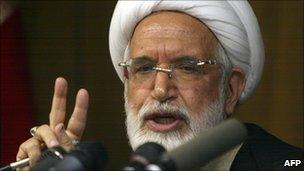 Iranian opposition leader Mehdi Karroubi has been put under house arrest, his official website says.
Security officials at the premises say the measures will last until next week, it adds. No one is being allowed to enter the house except his wife.
Mr Karroubi and Mir Hossein Mousavi, another opposition leader, had called for a rally on Monday to support the popular uprisings in Egypt and Tunisia.
The authorities refused permission, calling it a political move.
Although Iran's establishment supports the Egyptian popular protests, a spokesman for Iran's judiciary said on Wednesday that Iranians should show their solidarity by taking part in official rallies this Friday to commemorate the anniversary of Iran's revolution.
Choosing another day to hold a rally means that the opposition leaders "wish to be in a separate front and will create divisions", he told a news conference in Tehran.
Mr Karroubi, a 72-year-old cleric and former parliament speaker, ran against President Mahmoud Ahmadinejad during the disputed 2009 election which returned the hardline leader to power.
He currently leads the National Trust Party, and is seen as a political survivor who sought a soft and gradualist strategy of reforms.
Reports from Tehran say that police officers surrounded Mr Karroubi's house on Thursday.
His sons have told the BBC that they each tried to enter the house to see their father, but were stopped from doing so.
Mr Karroubi's movements were already heavily restricted, but in recent days, he had been increasingly politically active, says the BBC's Tehran Correspondent, James Reynolds from London.
On Saturday, he and Mr Mousavi submitted a request to hold a peaceful rally on 14 February in support of protesters in Egypt and Tunisia - what would have been the first mass opposition rally in Iran since the country's disputed presidential elections of 2009.
Mr Karroubi's son was reportedly told by the police that the new restrictions imposed on his father will stay in place until that very day, our correspondent says.
Related Internet Links
The BBC is not responsible for the content of external sites.