President Mubarak's announcement: Your reaction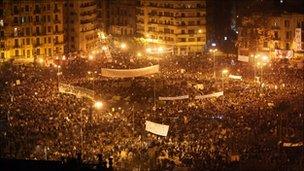 Egypt's President Hosni Mubarak has announced on national TV that he will stay in office and transfer all power only after September's presidential election.
BBC News website readers have sent their reaction to Mr Mubarak's speech.
Sherif, from Cairo, is surprised by Mubarak's speech
I have been waiting for tonight and I watched Mubarak's speech at home.
I think everyone is a bit surprised by what he said or didn't say. He didn't say that there would be any handover of power to the vice president, and didn't announce his total resignation.
In his speech, he offered his condolences to the families of the protesters who had died during the protests - but he was responsible for their deaths.
As a result of his speech, there may be an escalation of protests here.
Also, the Supreme Council of Egyptian Armed Forces may take action before Mubarak does, and it is possible that they will make a further statement this evening. If the military assumes control, I think this will quieten people.
My apartment overlooks Tahrir Square, and I will go down there tomorrow to find out what the mood is like among the protesters.
What happens in the coming hour will determine what will happen tomorrow.
Alia Moteleb, from London, is pro-Mubarak
My mother, sister and I are all really happy about this announcement. I am 23 so I've only ever known Mubarak. He is like a grandfather to me.
His speech was good enough for me but not good enough for other people. I hated to see him looking ill like that.
I think if he remains in power, the violence will continue but without him it would be more chaotic than it is already.
My mother is in Alexandria, on her own, but there are men downstairs protecting her house. I have many friends who have left Egypt because of these protests.
Mohamed Nounou is determined that Mubarak should step down
The announcement made by Mubarak is extremely depressing - but we are all still determined that our full demands should be met, and the first and most important of these demands is that Hosni Mubarak should go.
I was in front of the parliament building when the announcement was made, but there are many more people in Tahrir Square.
There is some word about a march towards the presidential palace - we don't want to lose momentum now, and everyone is absolutely infuriated - we were expecting Mubarak to resign.
The thing that I am most worried about is that Mubarak's words might create division among the people. Mubarak was very cunning in the way he put his words - talking about serving the country and living and dying here. He's trying to manipulate people.
That is why we should march - if we wait, he may move his thugs to try and stop our demonstrations. I think we have to be proactive.