Egypt protests: Obama impatient for credible transition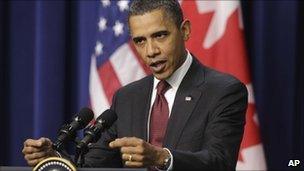 US President Barack Obama says the Egyptian government has yet to put forward a "credible, concrete and unequivocal" path to democracy.
He said Egyptians "remain unconvinced that the government is serious about a genuine transition to democracy".
Egypt's President Hosni Mubarak has said he plans to stay in office until September's polls, but pledged to hand over some powers.
Anti-government protesters have reacted angrily to Mr Mubarak's address.
"The Egyptian people have been told that there was a transition of authority, but it is not yet clear that this transition is immediate, meaningful or sufficient," said Mr Obama.
"The Egyptian government must put forward a credible, concrete and unequivocal path toward genuine democracy, and they have not yet seized that opportunity," he said.
In his nationally televised address earlier, President Mubarak had said he would delegate some powers to Vice-President Omar Suleiman, but the details remained unclear.
His comments confounded earlier reports that he was preparing to stand down immediately.
'Protect the constitution'
After the speech, Mr Obama convened a meeting with his national security team at the White House.
In his strongly worded statement issued shortly afterwards, the US president urged restraint from all sides, and said it was "imperative that the government not respond to the aspirations of their people with repression or brutality".
The US president's remarks were the strongest statement yet from the White House on the Egypt protests, and are a sign the White House was not satisfied by Mr Mubarak's announcement, says the BBC's Andrew North in Washington.
Earlier in the day, Mr Obama had seemed euphoric, preparing for Mr Mubarak to step down, adds our correspondent.
Opposition leader Mohamed ElBaradei called Mr Mubarak's speech an "act of deception".
"There is no way the Egyptian people right now are ready to accept either Mubarak or his vice-president," Mr ElBaradei told CNN.
"And my fear right now is this will start violence."
Earlier, the Nobel laureate wrote on Twitter: "Egypt will explode. Army must save the country now."
Meanwhile, Israeli Defence Minister Ehud Barak said it was up to the Egyptian people to decide their future.
French President Nicolas Sarkozy said it was inevitable that Mr Mubarak would relinquish power, and said Egypt must avoid another form of dictatorship.
In his address, Mr Mubarak, 82, said he would "protect the constitution and the people and transfer power to whomever is elected next September in free and transparent elections."
Mr Mubarak added that the country's emergency laws would only be lifted when conditions were right, and said he would ignore "diktats from abroad".
Watching the address in Tahrir Square, protesters waved their shoes in disgust and chanted "Down with Mubarak" when it became clear he was not going to step down. Thousands were reported to be heading towards the presidential palace some 15km (11 miles) away.
The BBC's Paul Adams in the square said the mood contrasted dramatically with the celebratory, almost party atmosphere that had existed in the hours running up to the speech.
Demonstrators say they will not leave until Mr Mubarak, who has been in power for 30 years, hands over power immediately.
More than 300 people have died since protests against Mr Mubarak's 30 years in power began more than two weeks ago.
Egypt is a key ally of the US in the Middle East, receiving about $1.3bn (£800m) worth of military aid annually.