Syria opens up to social networks
By Lina Sinjab
BBC News, Damascus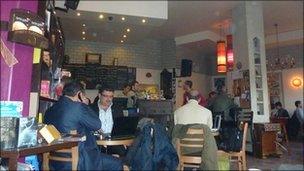 Hussam al-Yaqoub, a 22-year-old medical student, is glued to his laptop in an internet cafe in downtown Damascus, catching up with friends on Facebook.
For the first time since 2007, Syrians can directly log onto Facebook and YouTube without going through proxy servers abroad.
The authorities issued no statements regarding the change, but local media began reporting on Tuesday that local internet providers had been told to lift the firewall in response to demands from Syrian youth.
"I don't understand why they blocked it in the first place to unblock it now," says Mr Yaqoub.
Many other websites are still officially blocked, especially blogs with critical views about Syria, as well as the Arabic version of Wikipedia.
Ziad Haidar, an editor at the pro-government newspaper al-Watan, says the step reflects the government's growing confidence.
"The confidence is seen on two levels," Mr Haidar said. "On the one hand, the government's confidence in its people and [and on the other] the confidence it has in the way it is running the country. There is no fear of opening up."
While the move could be seen as a concession to stave off unrest following popular uprisings in Egypt and Tunisia, it is not a major compromise by the government, as many Syrians accessed the sites anyway by proxies.
The US state department was quick to welcome Syria's decision, but voiced fears that users would run risks without real freedom of expression.
Alec Ross, an aide to US Secretary of State Hillary Clinton, wrote on Twitter: "Welcome positive move on Facebook & YouTube in #Syria but concerned that freedom puts users at risk absent freedom of expression & association."
There are fears the move could in fact aid a government crackdown on dissidents in a country where thousands of political prisoners are languishing in jails.
Until now, people have used password-protected proxies or other free proxy sites to access their Facebook pages, making it impossible for the authorities to monitor their private posts.
"Opening Facebook will give the authorities more control over personal information," a local IT specialist, who asked not to be named, told the BBC.
"After the events in Egypt and Tunisia, I think they found it better to open it and know what's happening," he said.
Just last week, a call went out on Facebook for a "day of rage" in Damascus - mirroring the protest organisers in Egypt who succeeded in bringing tens of thousands onto the streets of Cairo.
The Syrian page gathered more than 12,000 supporters online, but in the end there was no sign of any demonstrators in Damascus - just a strong security presence around the parliament building where the protest should have taken place.
"Syria is stable, because you have to be very closely linked to the beliefs of the people. This is the core issue. When there is divergence, you will have this vacuum that creates disturbances," President Assad said.
But clearly, the authorities have been rattled by the popular uprisings in other Middle Eastern countries.
In the wake of the events in Egypt, the government raised heating oil allowances for public sector workers after an earlier plan to withdraw subsidies that drain the national budget.
And Mr Assad has promised to push through political reforms.
The 45-year-old president inherited power from his father, Hafez, in 2000, after three decades of authoritarian rule.
He has moved slowly to lift economic and media restrictions.
But early promises of openness and reform - hailed as the Damascus Spring - have failed to materialise, which analysts largely put down to opposition from stalwarts in his father's old guard.
Now, the administration in Syria has stepped up security controls after the recent uprisings in the region, and the country remains under emergency law, in place since 1963.
At a time when change is sweeping the region, much more reform is needed in Syria, says Peter Harling, project director for the International Crisis Group.
"The issue is not about pleasing users of Facebook. What events call for is a structured discussion about what fundamental reforms are needed in a country like Syria, as elsewhere in the region," Mr Harling said.
Related Internet Links
The BBC is not responsible for the content of external sites.