Iraq suicide bomber kills many Shia pilgrims on bus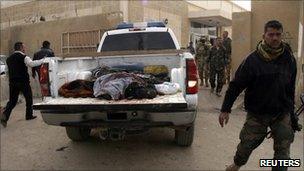 A suicide bomber in Iraq has killed at least 27 people in an attack on a bus carrying Shia pilgrims, police say.
The explosion took place just outside the Sunni-majority city of Samarra, north of Baghdad.
A police source at a hospital in Samarra told Reuters news agency that a number of women and children were among the injured.
Violence in Iraq has dropped sharply since the height of the conflict in 2006-07, but bombings are still common.
Attacks on Shia pilgrims are so frequent that they have claimed hundreds of lives in recent months, says the BBC's Jonathan Head in Baghdad.
"About 27 people were killed and about 20 were wounded by a suicide bomber who targeted a bus filled with Shia pilgrims on a highway just outside Samarra," AFP news agency quoted a hospital official as saying.
Samarra houses an important mosque and shrine to the 9th Century imam Hassan al-Askari.
The bus full of pilgrims was leaving Samarra after visiting the shrine when the bomb exploded, police said. It is unclear if the attacker used a car bomb or was wearing an explosives vest.
On Thursday, at least eight people were killed when a car bomb in the town of Dujail struck pilgrims heading to Samarra to celebrate Saturday's annual commemoration of the imam's death.
The gold-domed al-Askari mosque was largely destroyed in a massive bombing in 2006, an attack blamed for starting the 2006-07 wave of sectarian bloodshed.