Anti-government protests broken up in Yemen and Algeria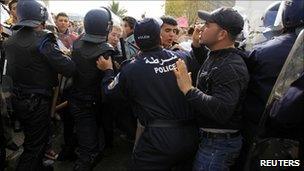 Anti-government rallies in the capitals of Algeria and Yemen, inspired by events in Egypt, have been broken up.
Riot police in Algiers dispersed thousands of people who had defied a government ban to demand that President Abdelaziz Bouteflika step down.
A similar march in Yemen's capital, Sanaa, calling for President Ali Abdullah Saleh to leave office was attacked by government supporters.
Egypt's Hosni Mubarak stepped down on Friday after 18 days of mass protests.
Both Yemen and Algeria, like other countries in the region, have recently witnessed demonstrations for greater freedoms and improved living standards.
Protesters in Algiers evaded thousands of police who were deployed in and around the capital city ahead of the demonstration.
The BBC's Chloe Arnold in the Algerian capital says it is estimated that 30,000 riot police were deployed across the city on Saturday.
Armoured vehicles were placed at strategic points across the city, with water cannons on standby and a helicopter circling above the centre of Algiers.
Public demonstrations have been banned in Algeria under a state of emergency in place since 1992.
The protesters gathered at Algiers' 1 May Square on Saturday morning.
They chanted "Bouteflika out!" - in reference to the country's president, who came to power in 1999.
The heavy police presence prevented them from marching to Martyrs Square, about 5km (3 miles) away. Rights groups said hundreds of people were arrested.
By late in the afternoon only a few hundred people were left in 1 May Square.
Our correspondent says Algeria's authorities have shown they are leaving nothing to chance, and that they have the force to take on any sign of popular uprising.
But the protest's organisers hailed it as a success.
"We've broken the wall of fear, this is only a beginning," said Fodil Boumala, one of the founders of the National Co-ordination for Change and Democracy.
"The Algerians have won back their capital."
In Yemen, it was supporters of President Saleh, in power since 1978, who forced anti-government protesters from the centre of Sanaa.
Saturday's unrest began with several hundred anti-government student activists marching towards the Egyptian embassy.
The number of protesters swelled to several thousand people, who chanted: "After Mubarak, it's Ali's turn."
Supporters of the president, armed with traditional Yemeni knives and sticks, turned up and forced the demonstrators to flee.
On Friday night, Yemeni protesters celebrating the toppling of Egypt's President Mubarak were driven by the authorities from Sanaa's Tahrir Square.
Analysts says the Yemeni authorities' response has been enough to deter protests - at least for now.
President Saleh has promised to step down in 2013 and has invited opposition groups to join a unity government, so the coming days and weeks are viewed as crucial.
The poorest country in the Arab world, Yemen faces the threat of al-Qaeda extremists, a separatist movement in the south and an uprising of Shia rebels in the north.