Iran opposition: Will Arab uprisings spread?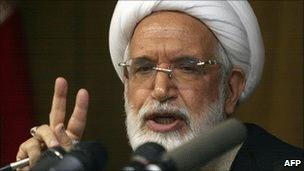 As Iranian opposition groups threaten to rally in support of the uprisings in Egypt and Tunisia, the BBC's Mohsen Asgari in Tehran asks whether the Middle East political contagion could spread to Iran - the first non-Arab country.
Iranian opposition leaders have issued a call for a peaceful rally in support of the Egyptian and Tunisian uprisings to be held later today in Azadi Square - Tehran's counterpart of Cairo's now-famous Tahrir Square.
"In order to show solidarity with the popular movements in the region and specifically the freedom-seeking movement by the Tunisian and Egyptian people against their autocratic governments, we hereby request a permit to call for a rally," Mir Hossein Mousavi and Mehdi Karroubi wrote in a letter to Iran's interior ministry last week.
As widely expected, the authorities refused the permit. Instead, they put both men under house arrest and detained about a dozen of their key advisers.
However, some opposition groups have vowed to defy the ban and to stage their rally in Tehran despite threats from officials that any protesters will be punished.
In recent days, there has been much talk of Egypt's political contagion wending its way through the Arab world and into Iran - the first non-Arab country to be caught up in the revolutionary fever.
"If Egypt and Tunisia can do it, why can't we?" you hear in hushed conversations at street corners, marketplaces and cafes across the capital.
Even Iranian internet sites have been buzzing with reports of the 14 February "Iranian day of rage", which takes its name and inspiration from the Egyptian uprisings which toppled President Hosni Mubarak after almost 30 years in power.
A Facebook page set up by young Iranian activists called 25 Bahman - a month in the Iranian calendar - has invited all "freedom-loving" people to join in the peaceful rally on Monday.
The page has gathered more than 55,000 supporters.
Meanwhile, security has been stepped up in the capital: anti-riot police have once again appeared on the streets of Tehran and police are blocking all roads leading to Azadi (Freedom) Square.
There have also been widespread problems connecting to the internet in recent days, and reports of much slower internet speeds. Officials have denied that any such problems exist, and dismissed claims of an internet clampdown.
The possibility of homegrown protests pose a clear dilemma for the Iranian authorities, who have publicly backed the events in Cairo as an "Islamic awakening" similar to Iran's 1979 revolution.
Ayatollah Ali Khamenei - who has led Iran as either president or supreme leader for as long as Hosni Mubarak has been the man in charge in Cairo - has personally hailed the "Islamic" uprisings in Egypt and Tunisia.
Egypt's Muslim Brotherhood, the country's main Islamic opposition group, has dismissed the characterisation, and the White House has instead likened Egypt's uprising to Iran's 2009 rebellion against President Mahmoud Ahmadinejad's disputed re-election.
The dilemma is summed up by a Mousavi supporter on the protest's Facebook page.
"If [the authorities] let the opposition rally in favour of the uprisings in Tunisia and Egypt, they cannot guarantee that people will go home again. And if they don't give permission, they will prove that they are supporters of Mubarak and [deposed Tunisian President Zine al-Abidine] Ben Ali."
Ardeshir Arjomand, an adviser to Mr Mousavi, says the "day of rage" is a test for the leaders of the Islamic Republic.
"If officials do not give permission for this demonstration, it will be a clear sign that they fear the people's true beliefs," he said.
Many observers in Iran say the Arab uprisings have breathed new life into the Iranian opposition.
The once-powerful movement that drew millions onto the streets after President Ahmadinejad's 2009 re-election, which they say was rigged, has all but disappeared.
Dozens of protesters were killed, and thousands arrested in the immediate aftermath of the street protests. Others were put on trial and sentenced to long jail terms.
But it is unclear whether the Iranian people are ready to put aside their fear of the regime and take to the streets once more.
"[Opposition leaders] Mousavi and Karroubi are asking authorities to let Iranians show their support for the fight against tyranny. This is exactly what Ayatollah Khamenei praised a couple of days ago," says Ali, a young English teacher.
He says he would like to go, then reconsiders.
"If I can be sure I won't be killed afterwards."
Related Internet Links
The BBC is not responsible for the content of external sites.