Egypt: Strikes test military regime
By Yolande Knell
BBC News, Cairo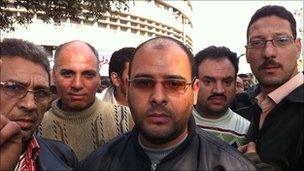 The spirit of protest in Egypt is continuing with a wave of labour strikes taking place across the country.
Outside the state TV and radio building in central Cairo, hundreds of public transport workers are demonstrating to demand better wages and conditions.
"The salaries of everyone here is about 400 to 600 Egyptian pounds ($70-$100; £45-60) a month. My total pay reaches 600 pounds," says a mechanical engineer, Ahmed Saad.
"My rent alone costs 350 Egyptian pounds. How can I buy food? How can I buy medicine?"
"There is so much corruption. This is why our salaries are low," comments Faraa Haat Ibrahim.
"It's hard to care for our families."
Nearby in Tahrir Square there was a rally by several hundred employees from the state-run Youth and Sports Organisation. They made similar complaints.
The Central Bank of Egypt ordered banks to remain shut following industrial action by staff at the largest state bank, National Bank.
In the past few days there have also been strikes by workers in healthcare, oil, tourism and textiles sectors.
"The question today isn't 'Who's striking?' the question is 'Who's not striking?'" remarks Kamal Abbas, head of the Centre for Trade Union and Worker Services, a non-governmental organisation.
"The reasons for the strikes are the same that we've seen before but added to that is the success of the revolution. It's given everyone confidence to come out. The second point is that people are uncovering the scale of corruption."
While independent unions were banned in Egypt to stop effective co-ordinated action, efforts are now being made to bring disparate workers' groups together in a committee to negotiate with the new military government.
In its latest announcement since taking power, the Supreme Council of the Armed Forces urged workers' leaders to call off their action.
"Honourable citizens can see that at this critical time [disruption] will have a negative effect in harming the security of the country," its spokesman said.
Other officials have stressed that restoring economic stability is a priority while promising to meet demands of the recent mass demonstrations to reduce social inequality.
It is estimated that 40% of Egypt's 80 million-strong population lives below or close to the poverty line of $2 per day.
The 18 days of protests that ended with the ousting of President Hosni Mubarak caused "a lot of damage" to Egypt's economy, according to caretaker Finance Minister Samir Radwan.
He says about $13bn was wiped off the stock market before it closed on 27 January. About 1.2 million tourists fled the country. Growth forecasts for this year have been lowered from 6% to between 3.5% and 4%.
"My immediate task when I took up this job was crisis management if you like, and then as time goes by it's also confidence-building at home and abroad," Dr Radwan says.
"At the same time, in parallel, I am trying to open files that will provide long-term solutions to young people's legitimate demands. The major problem is employment and wages, and some unconventional solutions have to be provided."
Handling this new wave of protests - which are essentially strikes over better pay and local labour grievances - while staving off a serious economic crisis may prove to be the first major test of Egypt's new military rulers.