Egypt crisis: Army sets constitution reform deadline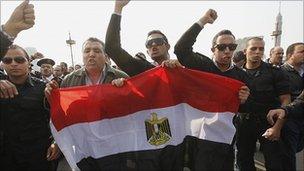 Egypt's ruling military council has announced that work on reforming the country's constitution is to be completed in 10 days.
A committee led by a retired judge has been tasked with proposing legal changes, said the council.
It earlier suspended the current constitution, which was amended during ousted President Hosni Mubarak's tenure to strengthen his grip on power.
Mr Mubarak stepped down last week after more than two weeks of protests.
The higher military council - which assumed power after Mr Mubarak stepped down - said on Tuesday that the amended constitution would be put to a popular referendum.
The eight-member committee is mostly made up of experts in constitutional law but it includes a senior figure from the opposition group, the Muslim Brotherhood.
It is headed by Tariq el-Bishri, considered one of Egypt's top legal minds, and on Tuesday held its opening meeting with Defence Minister Mohamed Hussein Tantawi.
The committee is instructed to "amend all articles as it sees fit to guarantee democracy and the integrity of presidential and parliamentary elections".
The BBC's Jon Leyne in Cairo says it looks as if the military council is fulfilling its pledge to hand the country back to civilian rule as quickly as possible.
The speed of the move will reassure the opposition, he says, although there might be some nervousness about whether it is an attempt to push through changes in too much of a rush.
The military council has also repeated its calls for an end to strikes that spread across the country during Sunday and Monday.
The stoppages are dealing a further blow to Egypt's ailing economy, damaged by three weeks of unrest.
"The supreme council is aware of the economic and social circumstances society is undergoing, but these issues cannot be resolved before the strikes and sit-ins end," the state news agency Mena quoted the military as saying.
"The result of that will be disastrous," it added.
Strikes eased on Tuesday, mainly because offices and businesses were closed for an Islamic holiday.
But correspondents said some smaller protests continued in provinces outside Cairo, mainly called by workers demanding higher pay.
Meanwhile, Mr Mubarak, 82, is reported to be in poor health in his residence in the Red Sea resort of Sharm el-Sheikh.
The Saudi-owned daily newspaper Asharq al-Awsat said on Tuesday that the former president's health was "declining drastically" and he was refusing to travel abroad for treatment. The paper quoted a former security official linked to the military high command.
In his final speeches to the nation, Mr Mubarak said that he would die in Egypt. He has not been seen in public since stepping down.
On Tuesday, the Egyptian ambassador to the US told American TV network NBC that Mr Mubarak was in poor health.